SGLT2 inhibitors reduce blood sugar fluctuations in diabetes when added to Sulfonylureas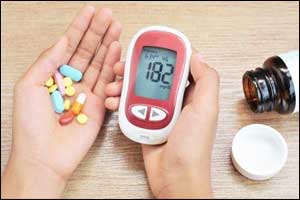 Sodium-glucose cotransporter 2 (SGLT2) inhibitors added to sulfonylureas therapy for Type 2 Diabetes patients may reduce blood sugar fluctuations and also aids in the improvement of the average blood sugar level without increasing the time in hypoglycemia or low blood sugar in these patients, revealed a study published in the journal Diabetes Technology & Therapeutics.
Diabetes is one of the global health hazards characterized by abnormally high blood sugar level which leads a number of health hazards such as microvascular disorder affecting kidney, nerves, and eyes. A number of large clinical trials have demonstrated that that strict blood sugar control through intensive insulin therapy, contrary to expectations, increases mortality rate, based on the increased incidence of hypoglycemic episodes and weight gain.
SGLT2 inhibitors, also called gliflozins, are a class of medications that inhibit the glucose resorption in the kidney and therefore lower blood sugar. They act by inhibiting sodium-glucose transport protein 2 (SGLT2). SGLT2 inhibitors are used in the treatment of type II diabetes mellitus (T2DM).
The present study aimed at comparing the impact of two sodium-glucose cotransporter 2 (SGLT2) inhibitors, tofogliflozin, and ipragliflozin, on hypoglycemia in patients with type 2 diabetes mellitus (T2DM), treated with sulfonylureas.
Thirty patients with T2DM were allocated to treatment with either 20 mg/day tofogliflozin or 50 mg/day ipragliflozin and underwent continuous glucose monitoring (CGM) for 5 days at three times in a crossover manner.
Key findings


The percent time spent at glucose <70 mg/dL per 24 h was 0.48, 2.77, and 0.06%, before treatment with SGLT2 inhibitors and treatment with ipragliflozin and tofogliflozin, respectively.


The addition of either ipragliflozin or tofogliflozin to sulfonylureas markedly and significantly improved other CGM-derived parameters, including average plasma glucose, standard deviation of glucose, mean postprandial glucose excursion, percent time with glucose >140, >180 mg/dL, and >200 mg/dL, area over the curve <70, area under the curve >140, >180, and >200, and maximum and minimum plasma glucose.


However, there were no significant differences in these parameters between the two SGLT2 inhibitors.


"Based on the CGM, the addition of tofogliflozin to sulfonylureas tended to decrease the percent time spent in hypoglycemia in T2DM patients. The addition of SGLT2 inhibitors to sulfonylureas improved the average glucose level and reduced blood sugar fluctuations without increasing the time in hypoglycemia." the authors concluded.