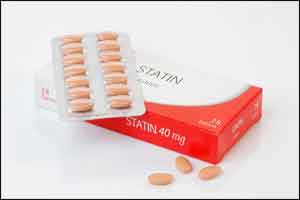 While statins are regarded as an ideal drug for the treatment of hypercholesterolemia, use of high-intensity statins is associated with blood sugar fall or hypoglycemia in patients with low serum albumin regardless of their blood sugar or diabetes status revealed a study published in the American Journal of Medicine.
Statins are the backbone of pharmacological cholesterol reduction. These drugs have repeatedly shown immense potential in reducing mortality and morbidity in coronary heart disease patients. in spite of good performance of statins in the prevention of coronary heart disease, these drugs have also found to cause insulin resistance and increase ambient glycemia in hypercholesterolemic patients, as well as increasing levels of fasting blood sugar regardless the diabetes mellitus status.
In this study, the authors have tried to find out whether the use of statins in not critically ill patients is associated with low blood sugar or not.
................................ Advertisement ................................
In this retrospective study, the authors included all patients discharged between January 1, 2010, to December 31, 2013 from internal medicine units at the Wolfson Medical Center. Excluded were patients with hepatocellular or cholestatic liver disease upon admission. Patients were allocated to 4 groups, according to diabetes mellitus status (yes or no) and serum albumin <3.5 g/dL (yes or no) on admission. Regression analysis was used to examine the association of blood sugar fall or incident hypoglycemia during hospitalization and statin treatment (yes or no), and later, statin intensity.
................................ Advertisement ................................
Included in this analysis were 31,094 patients (mean age 68.9±17.5 years, 48.4% males, 21.7% with diabetes mellitus). Logistic regression models showed that among patients with low admission serum albumin, administration of high-intensity statins was associated with increased incidence of hypoglycemic events compared to patients not treated with statins (odds ratio [OR] 1.303, 95% confidence interval [CI] 1.016-1.671, p = 0.037), whereas treatment with low-intensity statins was associated with less hypoglycemic events (odds ratio 0.590, 95% confidence interval 0.396-0.879, p = 0.010). Among patients with normal serum albumin, no association was found between incident hypoglycemia and statin intensity. These findings were significant regardless of diabetes mellitus status.
To conclude the study the authors wrote "statin treatment, in general, is associated with reduced incidence of hypoglycemia. However, among patients with low serum albumin upon admission, use of high-intensity statins is associated with an increased risk of hypoglycemic events regardless of diabetes mellitus status"
For further reference, click on the link
DOI: 10.1016/j.amjmed.2019.04.050
Deepanjana Sarkar joined Medical Dialogues as a Desk Editor in 2019 for Speciality Medical Dialogues. She has been working as a medical content writer from 2 years and has covered several medical specialties including Cardiac Sciences, Dentistry, Diabetes and Endo, Diagnostics, ENT, Gastroenterology, Oncology, and Radiology. She has completed her Master's in Technology (M.Tech) in biotechnology from Kalinga Institute of Industrial Technology, Bhubaneswar. She can be contacted at deepanjana@medicaldialogues.in. Contact no. 011-43720751