................................ Advertisement ................................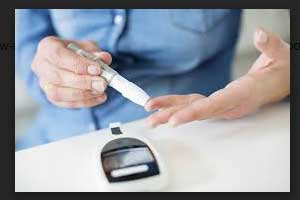 Sweden: Poor blood sugar control in patients with type 2 diabetes (T2D) increases the risk of stroke and death, according to a recent study published in the journal Diabetes, Obesity and Metabolism. 
Patients with diabetes are known to be at increased risk of cardiovascular (CV) complications including a high prevalence of atherosclerotic diseases, such as myocardial infarction and stroke. In general, people with diabetes are 1.5 times more likely to have a stroke than people without diabetes.
Risk factors of stroke include hypertension, atrial fibrillation, smoking, carotid stenosis and hyperlipidemia that contribute to the increased risk. In diabetic patients, hyperglycemia (high blood sugar) can also lead to increased stroke risk. In addition to hyperglycemia, other coexisting CV risk factors are observed in T2D patients in conjunction with metabolic syndrome (obesity, hypertension, hyperlipidemia and insulin resistance) can further contribute to increased stroke risk.
................................ Advertisement ................................
Thomas Nystrom, Karolinska Institutet, Stockholm, Sweden, and colleagues compared stroke incidence between patients with type 2 diabetes and a matched control group and investigated whether glucose exposure in T2D patients can predict first‐time stroke event and mortality.
The study included 406,271 patients with T2D (64.1±12.4 years/women 45.7%) and 2,008,640 control subjects (64.0±12.4 years/women 45.7%). Nationwide observational cohort study patients with T2D were linked in the Swedish National Diabetes Register and matched with five individual population‐based control subjects.
................................ Advertisement ................................
Also Read: Sleeping less than 6 hours increases death risk in high BP, Stroke and Diabetes patients, finds new research
Key findings of the study include:
During a median follow-up of 7.3 years, 26,380 (6.5%) patients with T2D vs. 92,372 (4.4%) of control subjects were diagnosed with a stroke.

The incidence rate was 10.88 events per 1,000 person-years vs. 7.03 events per 1,000 person-years. 

In patients with T2D and after multivariable adjustments for stroke with HbA1c (mmol/mol) levels, 54-64, 65-75, 76-86 and >87 mmol/mol, respectively, compared with the reference category of HbA1c ≤53 mmol/mol.

There was a stepwise increased risk of death for every 10 mmol/mol categorical increment of HbA1c for the highest HbA1c category.
Also Read: Simple Blood test can detect stroke risk in diabetes patients
"During the long-term follow-up period in patients with T2D with poor glycaemic control, the risks of stroke and death were almost twice that of patients with T2D with good HbA1c control, i.e., 53 mmol/mol (7%). Hyperglycaemia is a modifiable risk factor for stroke; therefore, the achievement of good glycaemic control should be strived for to minimise this complication," wrote the authors.
Source:
Risk of first stroke in patients with type 2 diabetes and the relation to glycaemic control: a nationwide observational study
DOI: https://doi.org/10.1111/dom.13885
Dr Kamal Kant Kohli-MBBS, DTCD- a chest specialist with more than 30 years of practice and a flair for writing clinical articles, Dr Kamal Kant Kohli joined Medical Dialogues as an Editor-in-Chief for the Speciality Medical Dialogues section. Besides writing articles, as an editor, he proofreads and verifies all the medical content published on Medical Dialogues including those coming from journals, studies,medical conferences,guidelines etc.
Before Joining Medical Dialogues, he has served at important positions in the medical industry in India including as the Hony. Secretary of the Delhi Medical Association as well as the chairman of Anti-Quackery Committee in Delhi and worked with other Medical Councils in India. Email: editorial@medicaldialogues.in. Contact no. 011-43720751
To know about our editorial team click here