Blood Sugar Control: Lixisenatide and basal insulin combo superior than insulin regimen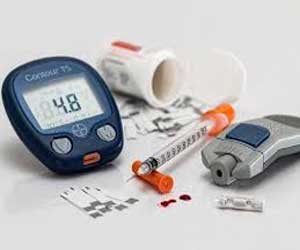 Lixisenatide combined with basal insulin (BI) helps to achieve similar blood sugar control as achieved with insulin regimens in patients with type 2 diabetes (T2D), according to a recent study published in the Diabetes, Obesity and Metabolism journal. The combo, however, was found to be superior in terms of weight control and hypoglycemia risk.
Also, the cost-effectiveness analysis shows that lixisenatide combined with basal insulin is a cost-effective treatment alternative for blood sugar control in T2D patients inadequately controlled by BI in China.
Recommended blood sugar levels have a degree of interpretation for every individual and patients should discuss this with their healthcare team. In addition, women may be set target blood sugar levels during pregnancy. It is also the endeavour of every treating doctor to keep blood sugar levels in limits and for which different regimens are tried keeping in view the compliance and cost-effectiveness of the treatment regimen.
Peng Men, Department of Pharmacy, Peking University Third Hospital, Beijing, China, and colleagues evaluated the comparative efficacy and safety of lixisenatide combined with BI versus intensive premix insulin (premix), BI plus prandial insulin with the main meal (basal-plus) or progressively covering all meals (basal-bolus) in patients with T2D inadequately controlled by BI, and the long-term cost-effectiveness of lixisenatide from a Chinese healthcare system perspective.
The researchers systematically searched for randomized controlled trials (RCTs) published between 1998 and 2018. The clinical efficacy and safety of each treatment were compared by network meta-analysis (NMA). The IQVIA CORE Diabetes Model was used to estimate the lifetime quality-adjusted life-years (QALYs) and direct medical costs of patients treated with different strategies. Eight RCTs were finally included.
Key findings include:



Lixisenatide plus BI showed a similar reduction in HbA1c from baseline compared with premix, basal-plus and basal-bolus.




There are significant differences in the change of body weight in favour of lixisenatide plus BI compared with the three insulin regimens.




The risk of symptomatic hypoglycemia of lixisenatide plus BI was significantly lower compared with premix and basal-bolus.




Lixisenatide plus BI was cost-effective compared with premix, basal-plus and basal-bolus with incremental cost-effectiveness ratios (ICERs) of CNY 87,219, 48,173 and 48,670 per QALY gained, respectively, under the threshold of 3-times GDP per capita in China.



The blood sugar and HbA1C control with Lixisenatide plus BI was comparable with other insulin regimens, accompanied by lower risk of hypoglycemia and greater body weight reduction.
"These findings demonstrate that lixisenatide plus BI is a cost-effective alternative treatment option for patients with type 2 diabetes that is inadequately controlled by BI," wrote the authors.
"Lixisenatide plus BI shows a similar HbA1c reduction compared with insulin regimens, accompanied by a lower risk of hypoglycemia and greater bodyweight reduction," they concluded.
To read the complete study log on to https://doi.org/10.1111/dom.13871