Liraglutide addition to Metformin boosts blood sugar control in young diabetics: NEJM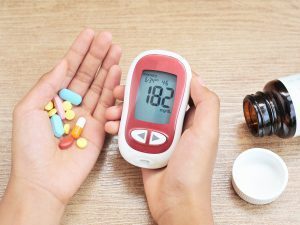 Delhi: Liraglutide, when added to metformin with or without basal insulin, effectively improved blood sugar control in children and adolescents with type 2 diabetes (T2D) over a study period of 1 year. However, it came at the cost of increased frequency of gastrointestinal adverse events.
These are the findings of a recent study published in The New England Journal of Medicine.
Metformin is commonly prescribed for the treatment of youth with type 2 diabetes early in the disease. However, the use of metformin alone has been shown to be associated with the early loss of blood sugar control. Also, the safety and efficacy of liraglutide addition to metformin for type 2 diabetes treatment in youth are still unknown.
The trial by William V. Tamborlane, Department of Pediatrics at Yale University, and colleagues assessed the safety and efficacy of glucagon-like peptide-1 receptor (GLP-1) receptor agonist in combination with commonly accepted T2D control therapy metformin in young T2D patients. All patients had a BMI greater than the 85th percentile and HbA1c level between 7% and 11%. Patients on metformin with HbA1c of at least 6.5% were also included in the assessment.
The researchers conducted the 52 weeks study involving patients aged 10-17 years old with qualifying high scores for body-mass index (BMI) and glycated haemoglobin (HbA1c) levels.
Of 135 patients who underwent randomization, 134 received at least one dose of liraglutide (66 patients) or placebo (68 patients)
All the patients received metformin during the trial. The primary endpoint was the change from baseline in the glycated haemoglobin level after 26 weeks. Secondary endpoints included the change in fasting blood sugar level. Safety was assessed throughout the course of the trial.
Also Read: Liraglutide addition to Insulin leads to better perioperative blood sugar control in diabetes
Key findings include:


Demographic characteristics were similar in the two groups (mean age, 14.6 years).


At the 26-week analysis of the primary efficacy endpoint, the mean glycated haemoglobin level had decreased by 0.64 percentage points with liraglutide and increased by 0.42 percentage points with placebo, for an estimated treatment difference of −1.06 percentage points; the difference increased to −1.30 percentage points by 52 weeks.


The fasting plasma glucose level had decreased at both time points in the liraglutide group but had increased in the placebo group.


The number of patients who reported adverse events was similar in the two groups (56 [84.8%] with liraglutide and 55 [80.9%] with placebo), but the overall rates of adverse events and gastrointestinal adverse events were higher with liraglutide.


Also Read: Insulin and liraglutide combo helps in better blood sugar control in type 2 diabetes
"The findings evidenced the superiority of liraglutide plus metformin versus placebo, regardless of patient basal insulin use, for the control of blood sugar in children and adolescents with T2D," wrote the authors.
To read the complete study log on to DOI: 10.1056/NEJMoa1903822