Blood biomarkers as a diagnostic tool for obstructive sleep apnea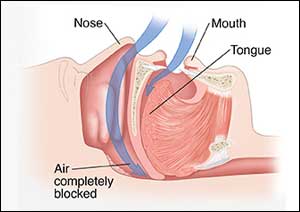 A study published in the journal Nature and Science of Sleep has highlighted the potential use of blood biomarkers as a tool for diagnosis of obstructive sleep apnea (OSA). The results of the study suggest that blood tests may be a useful screening tool and potentially superior to diagnostic methods used currently.
Wesley Elon Fleming, Sleep Center Orange County, Irvine, CA, USA, and colleagues conducted the study to assess the relationship between OSA and blood biomarkers, and test the hypothesis that combinations of markers provide a characteristic OSA signature with diagnostic screening value.
Obstructive sleep apnea is a condition characterized by repetitive cessation of breathing during sleep. It causes daytime tiredness which significantly impacts a patient's quality of life and increases the risk of diabetes and cardiovascular disease. It is a common, chronic sleep disorder that affects thousands of patients, yet recent studies show that many sufferers remain undiagnosed.
multicenter prospective study consecutively enrolled adult male subjects with clinically suspected OSA. All subjects underwent overnight sleep studies. An asymptomatic control group was also obtained. Five biomarkers were tested: glycated hemoglobin (HbA1c), C-reactive protein (CRP), uric acid, erythropoietin (EPO), and interleukin-6 (IL-6).
Key Findings:


The combination of HbA1c+CRP+EPO was superior to the Epworth Sleepiness Scale (ESS) and STOP-Bang questionnaires.


In non-obese subjects, the combination of biomarkers (0.75) was superior to body mass index (BMI; 0.61).


Sensitivity and specificity results, respectively, were: HbA1c+CRP+EPO (81% and 60%), ESS (78% and 19%), STOP-Bang (75% and 52%), BMI (81% and 56%), and BMI in non-obese patients (81% and 38%).


Professor Steven Shea, Editor-in-Chief for Nature and Science of Sleep and founder of one of the first clinical sleep laboratories in the UK commented, "Diagnosis for sleep apnea usually requires expensive overnight polysomnography. An accurate, simple, quick and cheap screening test would be ideal." He went on to add that "Signs of sleep apnea detected from a blood sample is an important step in that direction and is particularly relevant in this cohort of non-obese men with sleep apnea."
In a statement, the authors said that they anticipated that use of objective blood tests will improve screening accuracy and timely diagnosis, improve patient management, decrease the incidence of diabetes and cardiovascular disease, and decrease healthcare costs.
"We verify our hypothesis and replicate our prior feasibility findings that OSA is associated with a characteristic signature cluster of biomarker changes in men. Concurrent elevations of HbA1c, CRP, and EPO levels should generate a high suspicion of OSA and may have utility as an OSA screening tool. Biomarker combinations correlate with OSA severity and, therefore, may assist sleep centers in identifying and triaging higher risk patients for sleep study diagnosis and treatment," concluded the authors.
For further reference log on to
https://doi.org/10.2147/NSS.S164488
Source : With inputs from Nature and Science of Sleep