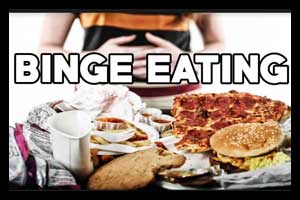 Patients with type 2 diabetes (T2D) commonly experience Binge Eating Disorder (BED) and Night Eating Syndrome (NES) that may affect the management of diabetes. A new study published in the Journal of Eating Disorders finds that BED is associated with higher BMI in patients with T2D.
Milan K. Piya, Macarthur Clinical School, School of Medicine, Western Sydney University, Campbelltown, NSW, Australia, and colleagues conducted a systematic review to assess the prevalence and associations of BED or NES in adults with T2D.
BED is characterized by consuming an objectively large amount of food over a discrete period of time; accompanied by a sense of loss of control and distress. It is prevalent in 1.9% to 2.8% of the general population, and people with BED are at 3–6 times greater risk of having obesity compared to those without BED.
NES is characterized by nocturnal hyperphagia, insomnia, and morning anorexia—affects about 1% of the general population.
For the study, the authors searched for articles which met the inclusion criteria in the databases MEDLINE, CINAHL and AMED; including patients> 18 years old, with T2DM, and BED and/or NES. A total of 10 studies (2 included NES) were included in this systematic review. The number screened for BED and NES were 6527 and 1039 participants, respectively.
Key Findings:
Point prevalence was 1.2–8.0% for BED and 3.8–8.4% for NES.
Patients with T2D and BED had higher BMI than patients with T2D without BED in the two studies that reported BMI.
There was no statistically significant difference in HbA1c between patients with and without BED in the two studies that measured HbA1c.
"BED and NES are common in adults with T2DM, and BED is associated with higher BMI in patients with T2DM. However, only two studies reported important outcomes measures such as BMI and HbA1c in patients with T2DM," concluded the authors. "Hence, further well-designed studies are needed to assess the impact of BED and NES in patients with T2DM. Health Care Professionals should consider the diagnosis of BED and NES in patients with T2DM,"
For further reference follow the link: https://doi.org/10.1186/s40337-018-0223-1