Bilateral Renal Infarctions During the Use of Painkiller (Sumatriptan)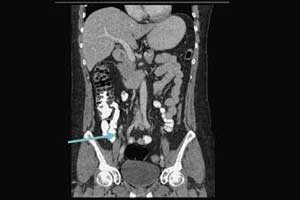 Triptans are effective as acute abortive therapy for a migraine and cluster headaches by targeting the serotonin 5-HT1B/1D receptors located in the cerebral, coronary, and peripheral arteries. The present case has been reported in the Kidney International Reports. A 45-year-old woman with a history of migraine headaches presented to the emergency department with acute left-sided abdominal and lower back pain.

Home medications included sumatriptan 25 mg as needed for migraine headaches, which were used shortly prior to presentation, and Mirena, an intrauterine device. She was diagnosed with presumed pyelonephritis and was discharged with trimethoprim−sulfamethoxazole, a nonsteroidal anti-inflammatory drug, and a proton pump inhibitor.

One week later, she represented to the emergency department with persistent left-sided abdominal pain. A CT examination of the abdomen/pelvis with intravenous contrast showed a patchy wedge-shaped area of decreased enhancement in the lower pole of the left kidney, concerning for a renal infarct, with thrombosis of a segmental artery to this region. She was discharged with subcutaneous enoxaparin as a bridge to warfarin for management of an acute renal infarction. During her hospitalization, she was treated for a migraine headache with a 1-time dose of sumatriptan.

Five days after discharge, the patient re-presented to the emergency department with nausea, vomiting, and epigastric and right-sided abdominal pain. Repeat computed tomography revealed wedge-shaped areas of hypoattenuation in both kidneys, consistent with an evolving infarct of the left kidney and a new infarct of the right kidney with thrombosis of a segmental right renal artery branch.

Three months later, while still on dabigatran, a hypercoagulable workup was repeated. Again, there was only a mildly positive finding with anti-cardiolipin IgM antibody at 13.5 units. Anti−β2 glycoprotein antibody measurement was within normal limits. Given the negative workup results for cardiovascular, embolic, and hypercoagulable states, her bilateral renal infarctions were attributed to sumatriptan, which was discontinued by her nephrologist. Follow-up renal function after 5 months has remained stable, and she has had no recurrence of symptoms.
For more details click on the link: DOI: https://doi.org/10.1016/j.ekir.2018.05.003