Mammograms may also help diagnose heart failure: Circulation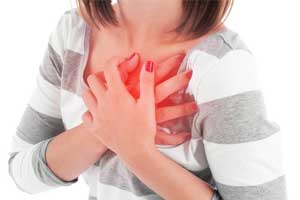 USA: Can the scope of mammograms use extended beyond the identification of breast cancer, a new study seems to suggest so. According to the study, mammograms apart from identifying cancerous tumours in the breast can also identify the risk of heart failure (HF) and heart disease in women.
The study was presented at the 2019 American Heart Association's Scientific Sessions by Quan Minh Bui and colleagues from the University of California, San Diego. It was subsequently published in the AHA journal Circulation.
Mammograms not only detect potential cancerous tumours by using X-ray images, but also show breast arterial calcification (BAC) -- calcium buildups inside the arteries in the breast that transport oxygenated blood to the heart. BAC, in turn, has emerged as a potential risk stratification tool and surrogate marker of cardiovascular disease that comes with no additional cost or radiation. Doctors use computed tomography (CT) scans to screen for these buildups in people whom they believe to be at risk.
Please also read-
Mammography can also detect cardiovascular disease in females, suggests study
According to the study authors, BAC can help in the identification of women at risk for cardiovascular diseases including stroke, heart attack, and heart failure in which the heart is unable to pump blood effectively.
This single-center, retrospective study included 278 women (mean age 61±11 years; 22% had diabetes, 54% had hypertension, 53% had hyperlipidemia and 29% were current or former smokers) from 2006-2016 who had both digital mammography and coronary computed tomography (CT) within one year of each other. BAC was quantified using an automated algorithm and compared with the presence of HF. Prevalent or incident HF was determined based upon review of medical records through September 2018.
Read Also: Mammograms in dense Breasts— Separating myth from fact
Key findings of the study include:


BAC was detectable in 90 women (32%) and HF was present in 19 women (7%).


Of the patients with HF, 68% had preserved left ejection fraction (mean 57%) and 84% were non-ischemic.


On univariable analysis, higher BAC was associated with the presence or development of HF (odds ratio (OR) per standard deviation increase in lgBAC 2.30).


Even after adjusting for age, hypertension and diabetes, the association was maintained (OR 2.20).


Read Also: Dual Scan Mammoscope may detect breast cancer early in women with dense breasts
The findings are significant as diagnosis and treatment of heart failure in women is challenging for doctors as it has slightly different causes than heart failure in men and it develops in different ways. Also, women typically develop heart failure later in life than men and tend to experience more clinical symptoms. Compared with men, women with heart failure have stiffer heart muscles but maintain a normal blood pumping ability.


If mammograms could reveal the presence of markers of heart failure risks, this may help doctors address this issue earlier on. However, Dr. Michos cautions, it remains unclear what course of action doctors should take in this case.

"BAC was independently associated with the presence or development of HF. BAC may represent an early marker of vascular stiffness and endothelial dysfunction and may be useful for identifying women at increased risk of HF. Additional studies are needed to validate and elucidate this association," concluded the authors.


Abstract 11552: Breast Arterial Calcification and Risk of Heart Failure was presented at the 2019 American Heart Association's Scientific Sessions and published in the journal Circulation.
Source : Circulation