Beware-Endoscopes are a common source of Infection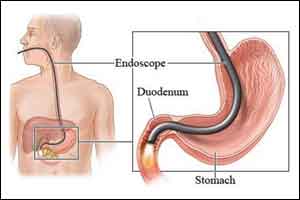 Rates of infection following colonoscopy and endoscopy are far higher than previously believed, says a study recently published in the journal Gut. Infection risks following upper gastrointestinal endoscopy and colonoscopy were found nearly hundred times higher than previously thought.
Postprocedure infections are not unusual after colonoscopy or esophagogastroduodenoscopy. Although concerns have been raised regarding bleeding and perforation with endoscopic procedures, little attention has been given to the risk for infection after colonoscopy and esophagogastroduodenoscopy (EGD)
Peiqi Wang and his associates conducted a study to estimate the rates of infections after colonoscopy and esophagogastroduodenoscopies (EGDs) performed in ambulatory surgery centers (ASCs).
The authors identified colonoscopy and EGD procedures performed at ASCs in 2014 from six states in the USA. Screening mammography, prostate cancer screening, bronchoscopy and cystoscopy procedures were comparators. Infection-related emergency department visits and unplanned in-patient admissions within 7 and 30 days after the procedures were tracked. The study examined infection sites and organisms and analyzed predictors of infections and investigated case-mix adjusted variation in infection rates by ASC.
Predictors of post-endoscopic infection included a recent history of hospitalization or endoscopic procedure, concurrence with another endoscopic procedure, low procedure volume or non-freestanding ASC. Rates of 7-day post-endoscopic infections varied widely by ASC, ranging from 0 to 115 per 1000 procedures for screening colonoscopy, 0 to 132 for non-screening colonoscopy and 0 to 62 for OGD.
The study found that the rates of post-endoscopic infection per 1000 procedures within 7 days were 1.1 for screening colonoscopy, 1.6 for non-screening colonoscopy and 3.0 for EGD; all higher than screening mammography (0.6) but lower than bronchoscopy (15.6) and cystoscopy.
Rates of septicemia, gastrointestinal, respiratory, and genitourinary infections were all higher after colonoscopy or EGD than after screening mammography and were generally similar for procedures performed with or without general anesthesia.
The study concluded that post-endoscopic infections are more common than previously thought and vary widely by the facility. However, the risk associated with screening colonoscopy is lower than diagnostic endoscopic procedures.
For more reference log on to
http://dx.doi.org/10.1136/gutjnl-2017-315308
Source : With inputs from the journal GUT