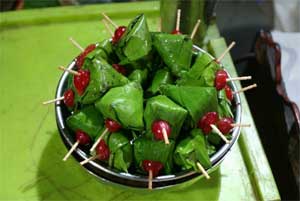 Uttar Pradesh Association of Physicians of India (UP API) has released guidelines for screening, diagnosis, and management of co-occurring betel quid chewing among persons with Diabetes Mellitus (DM). The recommendations are published in the Journal of The Association of Physicians of India.
Previous studies have shown that past betel quid chewing is positively associated with new-onset diabetes in Taiwanese adults aged 53 years or more.
Betel quid (paan) chewing is common in India, especially in Uttar Pradesh. Betel quid (paan) has a multifaceted relationship with health, including metabolic and psychosocial health. Uttar Pradesh reports a high consumption rate of betel quid chewing, especially in studies on persons with oral malignancy.
The position statement aims to provide education and guidance to clinicians engaged in care and management of persons with DM and improve access to treatment for co-occurring betel quid chewing among persons with DM.
The current recommendation grades are based on published evidence and categorized as strong, intermediate, weak and no evidence. The strength of these recommendations is based on the level of evidence.
Betel quid use can be associated with a level of addiction or dependence that is similar to that of other psychoactive substances. Tobacco (smokeless form) present in betel quid is a psychoactive substance with well-accepted addictive properties. Apart from and independent of the presence of tobacco, betel quid does have psychoactive properties owing to the presence of areca nut. It has clearly been shown that the addictive potential of areca nut is not based on the simultaneous use of tobacco in the mixture.
Moreover, Areca nut has been established as a proven carcinogen. Areca contains 4 main alkaloids: arecoline, arecaidine, guvacine, and guvacoline. These alkaloids create a sense of alertness and well-being, by binding to GABA receptors.
Betel quid has been classified as a Group I carcinogen by the International Agency for Research on Cancer. It is linked to cancer of oral cavity, pharynx, oesophagus, liver, biliary tract and uterus.
Betel quid has adverse effects on metabolic health. Betel nut contains nitrosated derivatives of arecal alkaloids. Apart from their psychoactive and tumorigenic effects, they are shown to have diabetogenic and obesogenic effects in the animal as well as clinical studies.
Following are the major recommendations:
All persons with diabetes should be screened for betel quid use and dependence (Grade A, EL 2).
All persons using betel quid should be counselled to stop (Grade A, EL 2)
All persons not using betel quid should be counselled not to begin (Grade A, EL 2)
All persons dependent upon betel quid should be offered appropriate non-pharmacological therapy (Grade A, EL 4)
All persons dependent upon betel quid, especially with evidence of metabolic or health impairment due to this, should be referred to a qualified mental health specialist for further management (Grade A, EL 4)
All persons using betel quid, with comorbid conditions or complications, should be referred to appropriate health care providers (Grade A, EL 4)
Public health campaigns to limit the use of betel quid must be promoted and encouraged (Grade A, EL 4)
Research must be promoted to create validated betel quid dependence scales in Hindi and Urdu, and to assess various deaddiction strategies (Grade A, EL 4)
For full guidelines log on to http://www.japi.org/november_2018/ps.html