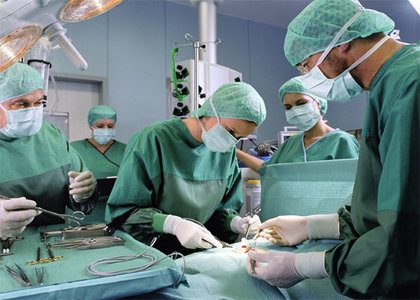 Bengaluru: Surgeons at St John's Medical College Hospital, Bengaluru have successfully removed a 7.5 kg  and 35X40 cm long tumour from a 48 year old man's thigh. The doctors claimed that it could be a second largest tumour operated upon in the country.
On January 2, Adhik (patient) had visited the outpatient department of  St John's Medical College Hospital, where the doctor observed his situation/case and advised him for surgery.  Dr Osborne Peter Vaz, assistant professor, surgical department Unit 1, St John's Hospital told media that patient was probably living with this tumour from last eight years and he was needed the immediate surgery.
Dr Vaz also said that Adhik had visited several doctors in  OPD department in the past and was advised medication but he found no relief.
Explaining the complications of the surgery, Dr Vaz said,  "The patient, who came to the hospital in the first week of January, had a condition which had led to severe anaemia. The tumour was located right near the femur artery and vein. Any mishap could cause excessive bleeding. We had to be handled very carefully."
"When we scheduled the surgery, we had to consider other factors as well. His heamoglobin count was just four. Our team of haematologists helped to increase it to 10. Later, the surgery was scheduled," reports DH
The doctors successfully removed the 7.5 kg tumour in a four hour long surgery.
The doctors have told that it was non-cancerous tumour and the nature was tumour was lipoma.  A lipoma is a benign tumor composed of adipose tissue (body fat). It is the most common benign form of soft tissue tumor. Lipomas are soft to the touch, usually movable, and are generally painless. Many lipomas are small (under one centimeter diameter) but can enlarge to sizes greater than six centimeters.  Lipomas are commonly found in adults from 40 to 60 years of age, but can also be found in younger adults and children.
 Adhik's muscles were affected as a result of the tumour being embedded in the body for long. The patient has now been relieved with the surgery and he is currently on physiotherapy to ensure his muscles are put back into normal shape.