................................ Advertisement ................................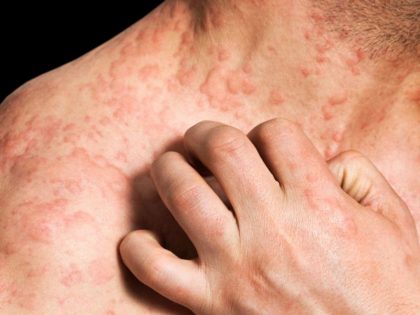 According to a recent report, Eli Lilly and Company and Incyte Corporation has announced that Baricitinib has been found efficacious and safe in atopic dermatitis in phase 3 trials. It met the primary endpoint in two Phase 3 studies evaluating its efficacy and safety for the treatment of adult patients with moderate to severe atopic dermatitis (AD).
Baricitinib tablets for oral use were approved by FDA on May 31, 2018, to use in patients with rheumatoid arthritis who failed to show a response with other drugs.
Eczema is often referred to as atopic dermatitis. The term eczema is broadly applied to a range of persistent skin problems. These symptoms include dryness and skin rashes that are characterized by one or more symptoms like Scratching, Redness, Flaky skin
................................ Advertisement ................................
Atopic dermatitis is also known as infantile eczema when it occurs in infants. It is more common in infants and children than in adults and very rare after midlife. The diagnosis of AD is not always easy in adults, especially when the extension of lesions is limited and their distribution atypical.
................................ Advertisement ................................
BREEZE-AD1 and BREEZE-AD2 enrolled 600 and 750 participants, respectively. The studies both randomized participants to a high-, mid-, or low-dose baricitinib arm, or to placebo. The baricitinib doses tested were 4 mg, 2 mg, and 1 mg. All participants had been diagnosed with moderate to severe atopic dermatitis for at least 12 months and had had an inadequate response to or intolerance of existing topical treatments within 6 months before screening.
In both investigational trials, compared to patients treated with placebo, a statistically significant proportion of patients treated with baricitinib achieved the primary endpoint at Week 16 defined by the Investigator's Global Assessment for AD (IGA) score of clear or almost clear.
................................ Advertisement ................................
On the safety side of the studies, the company reported that treatment-emergent adverse events and serious adverse events were similar between baricitinib treatment and placebo. The most common treatment-emergent adverse events were nasopharyngitis and headache.
It is worthy to note that there were no venous thromboembolic events, major adverse cardiovascular events (MACE), or deaths in either BREEZE-AD1 or BREEZE-AD2 Mallbris said. However, she noted that the results from these 2 clinical trials only represent data for 16 weeks of treatment.
Unfortunately, there are limited treatment options, particularly oral medications," said Lotus Mallbris, M.D., Ph.D., vice president of immunology development at Lilly. "We are encouraged that baricitinib met the primary endpoints in these two studies, and look forward to seeing the collective results of all five studies."
Lilly plans to share the full data results from both the BREEZE-AD1 and BREEZE-AD2 studies at future scientific venues and in peer-reviewed journals, as well as the topline data from other ongoing Phase 3 trials later this year.
Baricitinib is approved for the treatment of adults with moderately to severely active rheumatoid arthritis (RA) in more than 50 countries, including the U.S., member states of the EU and Japan, and is marketed as OLUMIANT®.
Author Details
Deepanjana Sarkar joined Medical Dialogues as a Desk Editor in 2019 for Speciality Medical Dialogues. She has been working as a medical content writer from 2 years and has covered several medical specialties including Cardiac Sciences, Dentistry, Diabetes and Endo, Diagnostics, ENT, Gastroenterology, Oncology, and Radiology. She has completed her Master's in Technology (M.Tech) in biotechnology from Kalinga Institute of Industrial Technology, Bhubaneswar. She can be contacted at deepanjana@medicaldialogues.in. Contact no. 011-43720751
................................ Advertisement ................................