Bariatric Surgery resolves albuminuria in Diabetic Nephropathy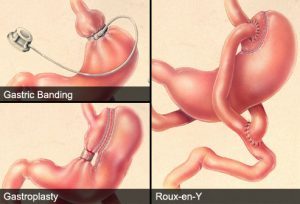 Diabetes may cause renal problems like Diabetic Nephropathy leading to albuminuria.In the past studies have shown that Bariatric surgery (BS) improves albuminuria which may have been reduced by weight loss per se or by improved systemic inflammation induced by weight loss after BS. LeAnne Young, a second-year medical student at the Cleveland Clinic and associates have found in a new study that High rates of patients with diabetic nephropathy who underwent bariatric surgery had long-term improvement or resolution of their albuminuria. The findings of the study were presented at the 16th World Congress of Endoscopic Surgery.
The researchers selected cohort of 101 patients from 1,200 patients with diabetes. Only those with evident albuminuria (uACR of 30 mg/g or higher) were included in the study, and they were followed for at least 1 year. Data collected included patient demographics, perioperative data pre- and postoperative body mass index (BMI) and weight, and uACR and glycated hemoglobin (HbA1c). Short-term follow-up was defined as 1 to 3 years, and long-term follow-up was 4 to 10 years.
The researchers looked at the long-term outcomes for patients with bariatric surgery who had nephropathy at baseline, and particularly albuminuria, which is an independent risk factor for declining kidney function in patients with type 2 diabetes. They found that among a cohort of 101 patients with albuminuria who had bariatric surgery at the Cleveland Clinic from 2005 to 2014 and were followed for 4 to 10 years, 80% had overall improvement in their urine albumin:creatinine ratio (uACR).In addition to this in 50% of patients, the albuminuria had resolved by last follow-up.
"We know that bariatric surgery improves diabetes and can lead to remission of diabetes in some patients. But there are limited data on the impact of surgery on the end organ complications of diabetes like nephropathy, cardiac disease, and retinopathy," Young said at the 16th World Congress of Endoscopic Surgery here.
The findings of this study with largest series of bariatric surgery in patients with diabetic nephropathy to date, showed a high resolution rate of albuminuria in the intermediate to long-term postoperative follow-up,the researchers concluded .However there is need for randomized clinical trial comparing the long-term effects of bariatric surgery versus medical treatment on albuminuria in future.
Source : with inputs