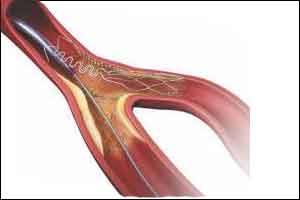 Elderly patients regularly receive bare-metal stents (BMS) instead of drug-eluting stents (DES) to shorten the duration of double antiplatelet therapy (DAPT) as they generally have higher bleeding risks. Prof  Olivier Varenne and associates conducted a study to compare outcomes between these two types of stents with a short duration of DAPT in such patients.
In this single-blind trial, the researchers randomized 1200 patients aged ≥75 with coronary artery disease undergoing PCI to a third-generation drug-eluting stent DES or a modern comparable bare-metal stent BMS.They recruited patients from 44 centers in nine countries. Patients were eligible if they were aged 75 years or older; had stable angina, silent ischemia, or an acute coronary syndrome; and had at least one coronary artery with a stenosis of at least 70% (≥50% for the left main stem) deemed eligible for percutaneous coronary intervention (PCI).
Exclusion criteria were indication for myocardial revascularization by coronary artery bypass grafting; inability to tolerate, obtain, or comply with DAPT; requirement for additional surgery; non-cardiac comorbidities with a life expectancy of less than 1 year; previous haemorrhagic stroke; allergy to aspirin or P2Y12inhibitors; contraindication to P2Y12 inhibitors; and silent ischaemia of less than 10% of the left myocardium with a fractional flow reserve of 0·80 or higher.
After the intended duration of DAPT was recorded (1 month for patients with stable presentation and 6 months for those with unstable presentation), patients were randomly allocated (1:1) by a central computer system (blocking used with randomly selected block sizes [two, four, eight, or 16]; stratified by site and antiplatelet agent) to either a DES or similar BMS in a single-blind fashion (ie, patients were masked), but those assessing outcomes were masked. The primary outcome was to compare major adverse cardiac and cerebrovascular events (ie, a composite of all-cause mortality, myocardial infarction, stroke, or ischemia-driven target lesion revascularization) between groups at 1 year in the intention-to-treat population, assessed at 30 days, 180 days, and 1 year.
At 1 year, the composite endpoint (all-cause mortality, myocardial infarction, stroke, and ischemia-driven target-lesion revascularization [TLR]) was more frequent with a BMS than a DES (16% vs. 12%). The advantage of the DES was driven predominantly by a lower target-lesion revascularization TLR rate (2% vs. 6%). The groups had similar bleeding and stent thrombosis risks, despite the very short DAPT duration.
It was concluded that among elderly patients who have PCI, a DES and a short duration of DAPT are better than BMS and a similar duration of DAPT with respect to the occurrence of all-cause mortality, myocardial infarction, stroke, and ischemia-driven target lesion revascularization. A strategy of the combination of a DES to reduce the risk of subsequent repeat revascularisations with a short BMS-like DAPT regimen to reduce the risk of the bleeding event is an attractive option for elderly patients who have PCI.
For more details click on the link: DOI: http://dx.doi.org/10.1016/S0140-6736(17)32713-7
The following two tabs change content below.
Dr. Kamal Kant Kohli
A Medical practitioner with a flair for writing medical articles, Dr Kamal Kant Kohli joined Medical Dialogues as an Editor-in-Chief for the Speciality Medical Dialogues. Before Joining Medical Dialogues, he has served as the Hony. Secretary of the Delhi Medical Association as well as the chairman of Anti-Quackery Committee in Delhi and worked with other Medical Councils of India. Email: drkohli@medicaldialogues.in. Contact no. 011-43720751
Latest posts by Dr. Kamal Kant Kohli (see all)