Bhabha Atomic Research Center Develops Cheapest ECG Machine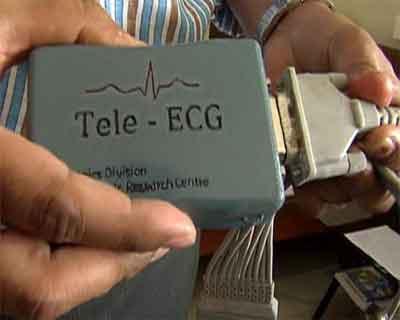 In a view to minimize the expenditure of medical treatment, the Indian Scientists at the Bhabha Atomic Research Center(BARC) has developed a credit card-sized Tele-ECG machine that is expected to cost only Rs. 4000.
The credit card sized Tele-ECG machine can transmit an ECG over mobile phones, thus enabling the data to be transmitted via mobile network anywhere. The machine also has the advantage of being recharged via a mobile charger
As compared to the commercial machines currently available in the market has cost between Rs 40,000 and Rs 50,000, the Tele-ECG is much more cheaper and easy to use, estimated at a mere cost of Rs 4000.
Speaking about the new invention, Dr Hemant Haldavnekar, a consulting physician, said, "The quality of the ECG is excellent and it has come to me in two to three different formats for me to view and it appears to be normal."
"This is a small low-cost ECG machine that on a single charge takes 300 ECGs. It is rightly suited for rural areas," the developer of the tele-ECG machine, Vineet Sinha, Scientist, Bhabha Atomic Research Center (BARC), Mumbai,told
NDTV
The concept of Tele-ECG was introduced more than 30 years ago, through the use of telephone lines. However, this application is limited to communication between fixed locations equipped with conventional handsets. The latest trend is to develop wireless telemedicine built around satellite communication, which requires expensive equipment, dedicated links and skilled manpower. Similarly wireless Local Area Networks (LANs) and short-range Radio Frequency (RF) transceivers, as used in hospitals, can't be utilized for rural applications. Therefore, for worldwide communication and rural health care, mobile cellular network like Global System for Mobile or better a Third Generation network is needed.
BARC has developed a Handheld 12-Channel Tele-ECG Instrument operated with the help of a mobile phone via Bluetooth. It records all the 12-leads of ECG simultaneously and displays the same on mobile screen. After complete recording, the report is generated in form of an image that can be sent to the expert's mobile through Multimedia Messaging Service (MMS) or any other file sharing apps. The device is ideally suited for rural health care. In city hospitals, the machine can be operated through Laptop/Desktop and report can be shared on Local Area Network (LAN). ECG report in standard graphical format (as shown above) can be taken on a blank A4 size paper.
FEATURES


Simultaneous acquisition of all the 12-leads


Low cost, portable and compact


Variable gain and frequency selection


Mobile as well as LAN connectivity


Acquisition, processing, storing and visualization of ECG in real time


Using a secure GPRS connection for transfer of ECG data to expert mobile


Lead fail detection


SPECIFICATIONS




Principle


:


Bio-potential sensing by surface electrodes




Configuration


:


Einthoven 12 Leads, Simultaneous




Input Impedance


:


> 10 MW




Gain (User Selectable


:


1,2,3,4,6,8 &12




Frequency
(User Selectable)


:


0.05 – 150 Hz
0.05/0.5 – 40 Hz
0.05 /0.5 – 25 Hz




CMRR


:


90 dB




Connectivity


:


Mobile-Mobile via MMS
Mobile-PC via internet Unit-Mobile / PC via Bluetooth




Size


:


3.5"(L) x 2.5"(B)x 0.5"(H) inches




Weight


:


100 gms




Power Input


:


+ 3.7V, 150mAH (min)




APPLICATION


The Tele-ECG system is of considerable importance for developing countries, where more than 70% of the population inhabits rural areas and has meager access to medical facilities. This large section can now be provided state-of-the-art medical care with such Tele-systems.


This unit can also be used for personal monitoring for regular follow up.


The unit has been upgraded for hospital use having Local Area Network.


INFRASTRUCTURAL REQUIREMENT


Space :
Since this is electronic equipment, it does not require large working space.
~3 to 5 Square Feet area may be more than adequate.


Man Power :
One Electronics or Instrumentation Engineer for hardware production consisting of Printed circuit board fabrication, assembly & testing of Instrument.
One Computer Engineer for firmware and application software.


Power Supply :
Standard Li-ion Mobile battery : 3.7V 150mAH (min)


Test Equipments :
Standard Test & measuring facility for electronic systems like Oscilloscope, DVM, soldering machine etc


Other Facilities :
Micro-controller Programming and Testing