Bangla girl with tree man disease undergoes surgery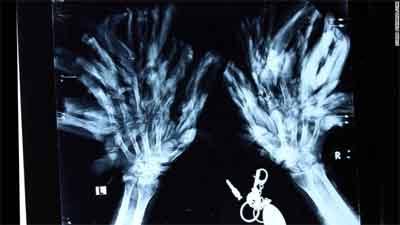 Dhaka : A 10-year-old girl in Bangladesh, diagnosed with rare "tree man" disease has successfully undergone the first surgery at an hospital here to remove the bark-like warts growing out of her face.
Shahana Khatun, possibly the country's first woman with "tree-man syndrome" underwent surgery at Dhaka Medical College Hospital's burns unit.
She may not need the second operation, Samanta Lal, national coordinator of the burn services in Bangladesh was quoted as saying by the The Daily Star.
Earlier, doctors had said that a second surgery might be needed on her.
Headed by burn and plastic surgery unit chief Abul Kalam Azad, a six-member medical board are treating Shahana completely free of cost.
Daughter of a poor farmer in Netrokona, Shahana got prickly rashes on her face when she was only a year old. When she turned six, those began to grow and spread raising the alarm.
Two years later, rashes began to grow over her ears and right leg knee. Her father took her to a homeopathic doctor whose prescribed medicines she had for a month, but nothing changed.
Learning that, treatment at Dhaka Medical College Hospital would be free of cost, the poor father came to Dhaka along with the girl.
Shahana's father Shahjahan Mia said that her daughter was under observation at the hospital. He hoped that Shahana would get better soon.
Previously, Abul Bajandar, 26, also known as "tree man" has undergone at least 18 operations at the same hospital where Shahana is receiving treatment.
Tree-man disease is a rare skin disorder, which covers limbs with warts, making them look like tree branches.
A Romanian man was first diagnosed with the disease in March 2007. Another case was reported in Indonesia in November the same year in a 35-yea
Source : PTI