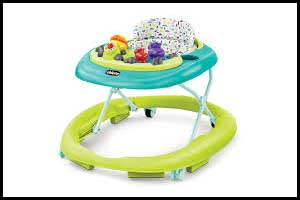 A new study published in the journal Pediatrics reports that a large number of children are injured every year using infant walkers and majority results in skull fractures, often from falling down stairs. Infant-walker injuries declined significantly after safety standards were put in place in 2010, but they still sent thousands of U.S. infants to emergency departments in 2014, according to a study in Pediatrics.
Ariel Sims and associates analyzed data from National Electronic Injury Surveillance System data from 1990 to 2014 to investigate the epidemiologic characteristics of infant walker-related injuries among children <15 months old.
The investigation found that more than 230,000 children younger than 15 months were treated in emergency rooms for injuries incurred while using infant walkers from 1990 to 2014.
As per the report, most of the children sustained head or neck injuries (90.6%) and 74.1% were injured by falling down the stairs in an infant walker. Among patients who were admitted to the hospital (4.5%), 37.8% had a skull fracture. From 1990 to 2003, overall infant walker-related injuries and injuries related to falling down the stairs decreased by 84.5% and 91.0%, respectively. Burns account for 2% to 5% of walker-related injuries. Walkers also have been commonly associated with poisonings of infants under 1 year of age.
An infant walker or baby walker consists of a wheeled base supporting a rigid frame that holds a fabric seat with leg openings and usually a plastic tray. The device is designed to support a preambulatory infant, with feet on the floor, and to allow mobility while the infant is learning to walk.
Parents who use infant walkers often express their perception that the walker keeps their child safe or that it helps the infant learn to walk. Data supporting such benefits do not exist.
One study that evaluated children between 6 and 15 months of age demonstrated that walker-experienced infants sat, crawled, and walked later than no-walker controls, and they scored lower on Bayley scales of mental and motor development.
Strategies to prevent infant walker-related injuries include 1) warning labels and public education, 2) adult supervision during walker use, 3) barriers such as stair gates, 4) infant walker design changes to prevent falls down stairs, and 5) a proposed ban on mobile infant walkers.

Infant walker-related injuries decreased after the implementation of the federal mandatory safety standard in 2010 in the US. This decrease may, in part, be attributable to the standard as well as other factors, such as decreased infant walker use and fewer older infant walkers in homes.
Despite the decline in injuries, infant walkers remain an important and preventable source of injury among young children, which supports the American Academy of Pediatrics' call for a ban on their manufacture and sale in the United States.
For reference log on to
http://pediatrics.aappublications.org/content/early/2018/09/13/peds.2017-4332