Bambuterol a better option for treating bronchial asthma, finds study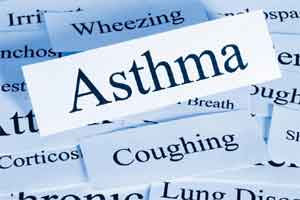 Amritsar: The efficacy of a single time dose of 10 mg long-acting β-adrenoceptor agonist (Bambuterol) daily is almost equivalent to two doses of sustained-release terbutaline daily, revealed a study published in the Indian Journal of respiratory care.
Dr Gurumit Singh, Department of TB and Respiratory Diseases, Sri Guru Ram Das Institute of Medical Sciences and Research, Amritsar, Punjab, India and colleagues conducted a study to evaluate the potency and effectiveness of oral bambuterol in the management of Asthma.
Asthma is a serious clinical condition in which the airways get inflamed and narrowed. The inflamed airways are very sensitive and tend to produce an allergic reaction to certain allergic triggers present in the environment. The short-acting β2-agonists are the most effective bronchodilators available. Conventional β2-adrenergic agonists act for a shorter duration and effect is not more than 12 h.
Bambuterol is a prodrug of β2 agonist terbutaline. Prior studies have shown that bambuterol reversibly inhibits plasma cholinesterase in a dose-dependent manner. As a result, the metabolism of its prodrug occurs in a slow and controlled fashion throughout the entire 24 h. Thus, acting as an endogenous reservoir of terbutaline, it reduces the frequency of dose, allowing it to be used only once instead of twice daily.
Researchers from Sri Guru Ram Das Institute of Medical Sciences and Research, Amritsar, conducted a study on 50 patients suffering from chronic asthma, to asses the efficacy of oral bambuterol in the management of bronchial asthma, improvement in symptom and any side effects after 2 weeks of therapy and frequency of rescue bronchodilator used after 2 weeks of treatment.
In their study, the researcher found that Bambuterol 10 mg oral tablet once a day provided a significant improvement in pulmonary function tests and effectively reduced asthmatic symptoms with minimal side effects.
The researchers gave bambuterol 10 mg orally daily for 14 days to all 50 patients included in the study. Pulmonary function tests were performed at day 1, 7 and 14. Forced vital capacity (FVC), forced expiratory volume in 1 s (FEV1s) and peak expiratory flow rate (PEFR) were assessed. Patients were evaluated for symptom score and adverse events at day 1, 7 and 14.
The researchers found significant improvement in the symptom score at end of the study. A significant improvement in mean percentage value of FVC by 16% and 28% was noticed at days 7 and 14, respectively. There was a significant increase in mean percentage FEV1s values by 20% and 33% on day 7 and day 14, respectively from the basal percentage values. There was also a significant increase in mean percentage PEFR by 13% and 22% by days 7 and 14, respectively from basal percentage value.
Some patients did not experience any side effects of the drug while a few patients had side effects such as mild headache (24%); mild tremor (8%); restlessness and nausea (4%). it was found that the total number of rescue bronchodilator puffs was also reduced.
The authors feel that a considerable population has been observed to not accept inhalation devices even after 3 decades of emphasis and persistence of compliance issues. Bambuterol may help patients with asthma who are non-compliant with inhalation devices or techniques but are willing to adhere to oral therapy. In these patients, the reintroduction of bambuterol fills the missing gap in the management in terms of results and compliance. Therefore, it is an ideal treatment for asthma
For further reference log on to :
doi: 10.4103/ijrc.ijrc_16_18