Baby Born Twice: Doctors insert foetus back into the womb after critical surgery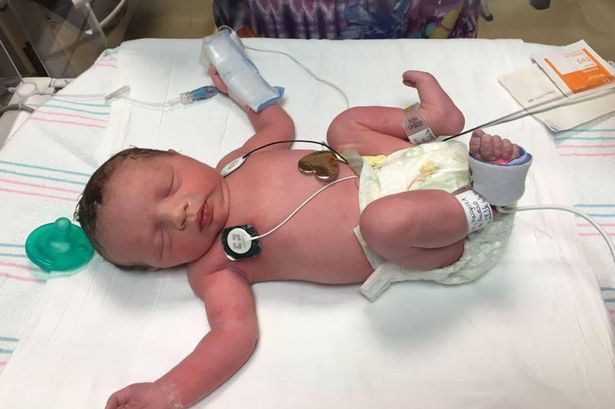 In what may be termed nothing short of a Miracle Surgery, doctors at Texas Children's Hospital, took out a 23-weeks old foetus carrying a tumour, out of the mother's womb, only to put it back again after incising the tumour. 12 weeks later, the mother gave birth to a healthy baby.
The unique case is that of one, Margaret Boemer, a resident of Plano, Texas , who at 16 weeks into her pregnancy, discovered on a routine ultrasound, the presence of a tumor in her unborn baby's tailbone. The simple option available to her was to terminate the pregnancy, which she did not want to do, given the fact that she was earlier expecting twins but lost one of her babies before the second trimester.
The other option, a definitely more complex one, came in the form of a rare surgery that required surgeons to open up the womb and take the 1 lb, 3 oz foetus out for 20 minutes for a do-or-die operation - and then put her back and sew up the uterus.
Knowing the risk associated with the surgery, she still opted for the second one. Speaking with
CNN
, her doctor added: "LynLee didn't have much of a chance. At 23 weeks, the tumour was shutting her heart down and causing her to go into cardiac failure, so it was a choice of allowing the tumour to take over her body or giving her a chance at life.
At 23 weeks and 5 days pregnant, the emergency fetal surgery was performed. By this time the tumor was nearly larger than the fetus. The patient was carefully monitored for the next 12 weeks, post which she delivered a healthy baby with a C-section.
The tumor, has been identified as
Sacrococcygeal teratoma
that develops before birth and grows from a baby's coccyx, the tailbone.
"This is the most common tumor we see in a newborn," said Dr. Darrell Cass, co-director of Texas Children's Fetal Center and associate professor of surgery, pediatrics and obstetrics and gynecology at Baylor College Medicine. "Even though it's the most common we see, it's still pretty rare."
Found more often in girls than boys, this tumor occurs in one out of every 35,000 births.
"Sometimes these tumors can be well tolerated in the fetus [but] her heart showed signs of starting to fail." Said Cass.
He further explained that as the tumor grew on the baby, it would compete with the heart, and try to redirect circulation to the tumor instead of through the body for normal development.