AYUSH initiates study on how yoga can help control diabetes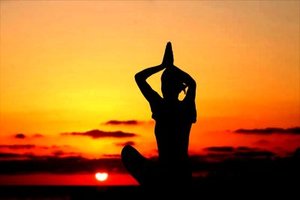 New Delhi : The AYUSH Ministry has initiated a study covering 60 districts on how yoga can help control diabetes, which has become the "biggest" health hazard and spreading at a fast pace in of the country.
Inaugurating a three-day International Conference on 'Yoga for Diabetes', AYUSH Minister Shripad Naik said that his ministry has initiated programmes to target diabetes, including setting up an experts' panel which has evolved a common yoga protocol for prevention, management of diabetes.
"Diabetes mellitus has become one of the biggest health hazard in the world. A sizable amount of resources is drained for combating diabetes. The major causes of the disease is modern lifestyle, food habits and increasing stress levels.
"Researchers in the field of yoga have shown that the disease can be managed through a regular yoga regime combined with healthy lifestyle," he said.
"The AYUSH Ministry has initiated a few programmes that target diabetes. A multi-centric research study on yoga and diabetes is being held in support of Health Ministry.
"A series of diabetes awareness programmes covering the entire country has been launched and 2,000 of such events were conducted on October 2 last year," Naik said.
AYUSH Ministry officials said the study will cover more than 50,000 people across 60 districts of the country and the result is expected by June this year. The result is likely to be announced by the Prime Minister on June 21 the International Yoga Day.
Noting that yoga is no longer restricted to the "privileged minority of hermits", Naik said it has found a place in everyday life and is practiced widely for promotion of health and management of various medical problems.
"Today yoga is accepted as a viable alternative to conventional healthcare systems for many diseases," he said, adding UNESCO has recently included yoga in its list of intangible cultural heritage, which recognises yoga's universal relevance.
Naik said the conference on 'Yoga for Diabetes' aims to generate discussions on the role of yoga in the prevention and management of diabetes and to draw up a road map to be adopted for the control of the disease through this ancient practice.
It will provide a common platform for allopathy and AYUSH practitioners, researchers, academicians, policy makers and students to come together in the fight against diabetes, he said.
Approximately 400 delegates and 50 experts from India and abroad, including experts of conventional medicine, AYUSH systems as well as yoga are participating in the conference.
The three day conference will comprise sessions on different aspects of yoga and diabetes including research, policy making and panel discussion.
Source : PTI