Ayurvedic polyherbal combination (PDBT) for prediabetes may reduce risk of Type 2 Diabetes Mellitus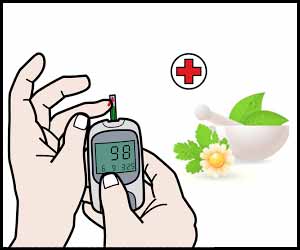 A polyherbal Ayurvedic combination of [Tinospora cordifolia (Giloy), Pterocarpus marsupium (Vijayasaar), Gymnema sylvestre (Gurmar), Zingiber officinale (Ginger), and Momordica charantia (Bitter Gourd)] PDBT along with lifestyle modification may be an effective and safe way to manage pre-diabetes and reduce conversion to type 2 diabetes mellitus by positively altering blood sugar levels, serum insulin and lipid profiles, revealed a study published in the Journal of Ayurveda and Integrative Medicine.
The global prevalence of diabetes is on the rise, especially in developing nations. In India, the number of people suffering from Diabetes Miletus has increased from 32 million in 2000 to 63 million in 2013 and is estimated to rise up to 101 million by 2030.
There is a global resurgence of herbal drug usage with the World Health Organization (WHO) promoting their amalgamation into mainstream medicine. Due to the complex constitution, poly herbals appear to work in a dynamic way to produce better therapeutic activity by interacting with multiple receptor targets.
This study aimed at assessing the efficacy of a polyherbal combination of few selected herbs which are known to reduce the blood sugar levels and manage diabetes, along with a few lifestyle modifications in the management of pre-diabetes and reducing conversion to Type 2 Diabetes Miletus.
The authors conducted a double-blinded, placebo-controlled randomized clinical trial to evaluate the efficacy of the polyherbal formulation on 114 participants 57 each in the intervention and control group. Participants were divided into a group on PDBT and lifestyle management (LSM) and second on placebo and LSM. Participants in the intervention group received 2 gm/day of PDBT. All participants received the intervention for a period of 6 months.
At the end of the study, 8 participants from the intervention group, compared to 15 participants in the control group had converted to DM. There was a 47% risk reduction in the intervention group. Participants in the intervention group showed a statistically significant decrease in their blood sugar level (fasting and PP), HbA1c, fasting serum insulin and HOMA-IR values. There was no significant change in BMI. No adverse effects were reported by any participants.
The authors concluded that PDBT along with lifestyle modification in prediabetic participants was associated with a reduction in conversion to Diabetes Mellitus than placebo along with lifestyle modification without any adverse effects. This herbal combination positively altered the blood glucose levels, serum insulin and lipid profiles which led to a reduction in the risk of developing T2DM. Ayurveda parameters like Agni, Aahar, Nidra in short Dincharya also plays a very important role in conversion from prediabetes to diabetes and proper recording of these parameters is also necessary.
For further details, click on the link
https://doi.org/10.1016/j.jaim.2018.05.004
Source : With inputs from Journal of Ayurveda and Integrative Medicine