ATS Guideline on diagnosis of ICU-acquired weakness in adults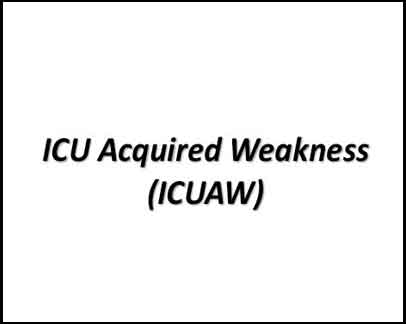 A substantial number of patients admitted to the ICU because of an acute illness, complicated surgery, severe trauma, or burn injury will develop a de novo form of muscle weakness during the ICU stay this is referred to as "intensive care unit acquired weakness" (ICUAW). This ICUAW evoked by critical illness can be due to axonal neuropathy, primary myopathy, or both. Underlying pathophysiological mechanisms comprise microvascular, electrical, metabolic, and bio energetic alterations, interacting in a complex way and culminating in loss of muscle strength and/or muscle atrophy. ICUAW is typically symmetrical and affects predominantly proximal limb muscles and respiratory muscles, whereas facial and ocular muscles are often spared. The main risk factors for ICUAW include high severity of illness upon admission, sepsis, multiple organ failure, prolonged immobilisation, and hyperglycemia, and also older patients have a higher risk.
In 2014 the American Thoracic Society published a clinical practice guideline: the diagnosis of intensive care unit-acquired weakness in adults.
Following are its recommendations:Recommendations to Aid in Decisions Regarding Diagnostic Testing for Intensive Care Unit-acquired Weakness (ICUAW)Recommendation 1
: The committee recommends well-designed, adequately powered and executed randomized controlled trials comparing physical rehabilitation or other alternative treatments with usual care in patients with ICUAW that measure and report patient-important outcomes. (
strong recommendation
)
Recommendation 2
: The committee recommends clinical research to determine the role of prior patient disability in the development of and recovery from ICUAW. (
strong recommendation
)
Recommendation 3
: The committee recommends clinical research that determines whether or not patients would want to know if they have ICUAW even though no specific therapy currently exists and how patient preferences influence medical decision making or the perception of prognosis. (
strong recommendation
)
To read the complete guideline click on the following link:
http://www.thoracic.org/statements/resources/cc/ICUAW_cpg.pdf