Diagnosis, management of thyroid disease during pregnancy: ATS guideline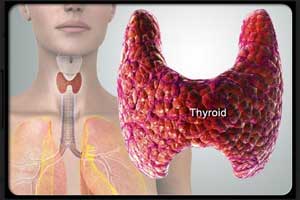 The American Thyroid Association (ATS) has released an updated guideline on the diagnosis and management of thyroid disease during pregnancy and the postpartum period.
The guideline is published in the
Journal of the American Medical Association
.
Thyroid hormone production increases during pregnancy. Thyroid dysfunction is common during pregnancy, and both hyperthyroidism and hypothyroidism are associated with increased risk of adverse pregnancy and perinatal outcomes. Accurate assessment of thyroid status and management of thyroid dysfunction in pregnant women are crucial to optimize maternal-fetal outcomes.
Key Recommendations:


Women with treated hypothyroidism who become pregnant should increase their levothyroxine dosage by 20% to 30% (2 more tablets per week) at the time of a positive pregnancy test. A randomized trial demonstrated that this strategy reduced the risk of hypothyroidism in the first trimester and resulted in less thyrotropin suppression compared with an increase of 3 tablets per week.


For treatment of Graves disease in pregnancy, propylthiouracil is recommended through 16 weeks' gestation. A Danish cohort study found a similar prevalence of birth defects in offspring of women treated with methimazole (9.1%) and propylthiouracil (8.0%); however, birth defects associated with propylthiouracil were generally milder. No recommendation is made about whether propylthiouracil should be continued after 16 weeks' gestation or if therapy should be switched to methimazole.


No recommendation is provided for or against universal screening for thyroid dysfunction in pregnancy. Two large randomized trials found no benefit on offspring IQ with early pregnancy screening and treatment of maternal hypothyroidism or hypothyroxinemia; however, levothyroxine was not initiated until after organogenesis at 13 to 18 weeks' gestation.


The guidelines stress the importance of accurate assessment of thyroid function in pregnancy and suggest population- and trimester-specific reference ranges for thyrotropin and total T4, rather than free T4, as preferred measures.


Treatment of subclinical hypothyroidism is recommended for TPO (thyroid peroxidase)- positive women with thyrotropin levels greater than the pregnancy-specific range and TPO-negative women with thyrotropin levels greater than 10 mIU/L and can be considered for women with lower thyrotropin.


These guidelines may benefit patients and their offspring by helping clinicians identify and effectively treat thyroid dysfunction in pregnancy. The potential harms from these recommendations are minimal. These guidelines may increase the treatment of women with subclinical hypothyroidism, for whom benefits of therapy are uncertain.
For more details click on the link:
doi:10.1001/jama.2019.5321