................................ Advertisement ................................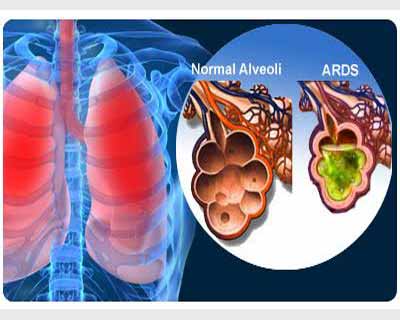 Acute respiratory distress syndrome (ARDS) is an acute inflammatory lung injury that results in increased vascular permeability and is associated with many conditions, including sepsis, aspiration, pneumonia, severe trauma, and overdose. Its management remains largely supportive, with mechanical ventilation forming the cornerstone of therapy. American Thoracic Society (ATS)/European Society of Intensive Care Medicine (ESICM)/Society of Critical Care Medicine (SCCM) have released latest Guidelines on Mechanical Ventilation in Adult Patients With Acute Respiratory Distress Syndrome.A multidisciplinary panel conducted systematic reviews and meta-analyses of the relevant research and applied Grading of Recommendations, Assessment, Development, and Evaluation methodology for clinical recommendations.They have been published in American Journal of Respiratory and  Critical Care Medicine.
Major recommendations
For all patients with ARDS:
................................ Advertisement ................................
Use lower tidal volumes of 4 to 8 mL/kg per breath, calculated using predicted body weight (PBW) (strong recommendation; moderate confidence in effect estimate).

................................ Advertisement ................................

Use lower inspiratory pressures, targeting a plateau pressure <30 cm H2O (strong recommendation; moderate confidence).
For patients with severe ARDS (Pao2/Fio2 ratio <100):
Use prone positioning for at least 12 h/d (strong recommendation; moderate confidence).

Do not routinely use high-frequency oscillatory ventilation (strong recommendation; high confidence).

Additional evidence is needed to recommend for or against the use of extracorporeal membrane oxygenation (ECMO) in severe ARDS.
The guideline strongly recommends lung-protective ventilation for all patients with ARDS, defined as targeting tidal volume of 4 to 8mL/kgPBW and a plateau pressure of less than 30cm H2O. The ARDS Net trial supporting this recommendation enrolled 861 patients and found a 22%relative reduction in mortality with tidal volumes of 6mL/kg PBWcompared with 12 mL/kg PBW.2 The guideline identified 8 other relevant trials.When all trials were included, the lung-protective approach was
associated with lower mortality (risk ratio [RR], 0.80; 95% CI, 0.66-0.98). Larger tidal volume differences between control and intervention groups were associated with larger improvements in mortality.
The guideline makes 2 important recommendations for severe ARDS, defined as a PaO2/FIO2 ratio of 100 or less. First, these patients should be placed in the prone position for at least 12 hours per day.The recommendation is based largely on the PROSEVA trial,which found that prone positioning reduced 28-day mortality from 32.8% to 16.0% (P < .001) in 466 patients with severe ARDS.4 This will be a practice change for many intensive care units (ICUs) and clinicians; moreover, implementing prone positioning can be logistically challenging.In addition, prone positioning may carry additional risks.
For Further Reference Log on to:
Am J Respir Crit Care Med. 2017 May 1;195(9):1253-1263.DOI: 10.1164/rccm.201703-0548ST
Dr Kamal Kant Kohli-MBBS, DTCD- a chest specialist with more than 30 years of practice and a flair for writing clinical articles, Dr Kamal Kant Kohli joined Medical Dialogues as an Editor-in-Chief for the Speciality Medical Dialogues section. Besides writing articles, as an editor, he proofreads and verifies all the medical content published on Medical Dialogues including those coming from journals, studies,medical conferences,guidelines etc.
Before Joining Medical Dialogues, he has served at important positions in the medical industry in India including as the Hony. Secretary of the Delhi Medical Association as well as the chairman of Anti-Quackery Committee in Delhi and worked with other Medical Councils in India. Email: editorial@medicaldialogues.in. Contact no. 011-43720751
To know about our editorial team click here
................................ Advertisement ................................