Atorvastatin more effective than sodium valproate in migraine headache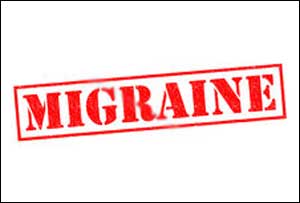 Atorvastatin appears to be safe and effective as compared to sodium valproate in reducing the number of migraine attacks, the intensity of headache episodes, the duration of attacks, and the number of analgesics taken by patients, says study.
A migraine is a primary headache disorder characterized by recurrent headaches that are moderate to severe. Typically, the headaches affect one half of the head, are pulsating in nature, and last from two to 72 hours. Associated symptoms may include nausea, vomiting, and sensitivity to light, sound, or smell
Hesami et.al conducted a study to evaluate the prophylactic effects of atorvastatin on frequency, intensity, and duration of migraine attacks compared with sodium valproate.
The study which was randomized, double-blind and single-center controlled trial included patients with 6 to 15 migraine attacks per month. The patients were randomly allocated into 2 groups. The first group (A) received atorvastatin40 mg daily, and the second group (B) received sodium valproate 500 mg daily. All patients were followed up for 3 months. The characteristics of migraine headaches including frequency, intensity, and duration of attacks were recorded as well as the number of analgesics taken per each attack and probable adverse effects, every month which followed for 3 months.
From 82 patients who completed the trial, 46 were in group A who were given atorvastatin 36 in group B kept on sodium valproate. Number, duration, and intensity of attacks and number of analgesics taken during attacks decreased significantly in both groups in monthly follow-up. It was found that patients in group A suffered fewer adverse effects compared with group B.
The study concluded that atorvastatin could be an alternative for sodium valproate in migraine prophylaxis with comparable efficacy and fewer adverse effects. Multicenter studies with larger sample size are recommended.
25% of women and 8% of men get migraines sometime in their lifetime. About half of these people get their first migraine before the age of 20, and 98% before the age of 50. Only 60% of migraines are one-sided.
The study was published in the journal Clinical Neuropharmacology
For more reference log on to the journal:
doi:
10.1097/WNF.0000000000000280
Source : With inputs from Clinical Neuropharmacology