Atopic dermatitis patients are at increased long-term risk for AF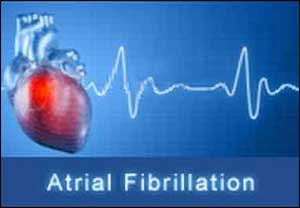 Delhi: Patients with moderate to severe atopic dermatitis have a 20% increased long-term risk of atrial fibrillation, according to a 35 year-long study. The study further adds that the absolute risk, however, remains low.
Results of the study are published in the Journal of the American Academy of Dermatology.
Atopic Dermatitis or Eczema is a chronic inflammation of the skin characterized by itchy and red skin. Chronic inflammation is a risk factor for atrial fibrillation.
Atrial fibrillation, or AFib, is an irregular and rapid heart rate that increases risk of stroke, heart failure, and other complications. There is no cure for AFib, and while medications and procedures can often help, they are not always successful.
Sigrun A.J. Schmidt, Aarhus University Hospital, Aarhus, Denmark, and colleagues examined the association between hospital-diagnosed atopic dermatitis and atrial fibrillation.
The researchers identified 13,126 persons with atopic dermatitis and 124,211 comparators using linked population-based Danish registries from 1977–2013. The cohorts were followed until death, emigration, atrial fibrillation diagnosis or until 2013. Cox regression was used to compare the 35-year risk of atrial fibrillation and estimated hazard ratios, after adjusting for birth year and sex. 100 atopic dermatitis diagnoses were validated from a dermatological department through medical record review.
Also Read: Cyclosporine quick and reliable treatment for atopic dermatitis in kids
Key findings include:


The 35-year risk of atrial fibrillation was 0.81% and 0.67%, respectively.


The positive predictive value of atopic dermatitis diagnoses was 99%.


The HR was 1.6 in female subjects vs. 1.0 in male subjects, and the HR was greater at 1.6 in those 19 years or younger at diagnosis vs. 1.0 to 1.1 in older age groups.


The HR was 1.1 for moderate atopic dermatitis and 1.3 for severe atopic dermatitis.


Also Read: Baricitinib effective for treating moderate to severe atopic dermatitis, reveal clinical trial results
"There were no substantial changes in estimates when analyzing with delayed entry or when using phototherapy as a proxy for severe atopic dermatitis in addition to other systematic therapies and admissions," Schmidt and colleagues wrote.
"Patients with hospital-diagnosed atopic dermatitis have a 20% increased long-term risk of atrial fibrillation, but the absolute risk remains low," they concluded.
To read the complete study log on to
https://doi.org/10.1016/j.jaad.2019.08.039