At least 30% of antibiotic use in outpatient settings unnecessary : Dr. Monojit Mondal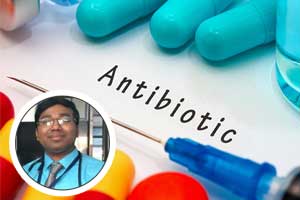 Antibiotic-resistant infections are the major challenge in recent days. Although there are several factors which lead to prescribing of antibiotics in outpatients settings, it is clearly evident that at least 30% of antibiotic use in outpatient settings is unnecessary. Children, less than 2 years of age had the highest prescribing rate among different patient age groups. Inappropriate use of antibiotics not only a cause of increasing antibiotic resistance but also a cause of increasing healthcare expenditure.
As per the Centers for Disease Control and Prevention (CDC), it was estimated that in the USA more than two million people are infected with antibiotic-resistant organisms, resulting in approximately 23,000 deaths annually. In contrast to adult patients, more recent studies have shown that resistance rates for key pathogens have been rising significantly in the pediatric population over the past decade. Children are particularly vulnerable to multidrug-resistant (MDR) infections because of the lack of pediatric pharmacokinetic data and safety profile of new antibiotics, which contributes to fewer broad-spectrum antibiotics being approved for pediatric use. Most physicians prescribing antibiotics for conditions like acute respiratory conditions, including sinusitis, otitis media, pharyngitis, viral upper respiratory tract infection, bronchitis and bronchiolitis, asthma, allergy, influenza, and pneumonia. The three most prescribed antibiotic classes in outpatient settings include penicillins, macrolides, and cephalosporins. Although there has been a decrease in the number of macrolides prescribed in recent years.
One must remember that all antibiotic use, irrespective of whether it is warranted, contributes to the development of antibiotic resistance. In recent years, though there is some decrease in the use of antibiotics among the pediatric population. But, children continue to account for a large proportion of antibiotic prescribing worldwide. Though there are several antibiotics are in clinical development, but the historical success rate of clinical drug development in the pediatric population is low. Additionally, there is urgent need of antibiotics that will effectively combat infections caused by Gram-negative ESKAPE pathogens (eg, Klebsiella pneumoniae, Acinetobacter baumannii, Pseudomonas aeruginosa, and Enterobacter species).
So, the million dollar question is why the pediatricians and the other physicians are prescribing antibiotics? What is the driving force of prescribing antibiotics?
Since the 1990s, there have been a significant number of studies conducted to find out the driving force of prescribing antibiotics in outpatient settings. These studies have shown that the decision to prescribe antibiotics is a complex process in which physicians are influenced not only by medical information but also by some nonclinical factors. Some key factors include -


Patient Satisfaction and Pressure


Studies have consistently revealed that physicians consider patient demand to be a major driving factor in antibiotic prescribing decisions. In general population, there is a "culture of expectation" among parents for antibiotics.


Time Constraints


In an outpatient setting, physicians have limited time to diagnose and treat the patients and to determine the most appropriate management plan for each patient. Studies have revealed that physicians see the combined pressures of workload and time constraints as factors that contribute to overuse of antibiotics.


Diagnostic Uncertainty


There is significant overlap of symptoms of bacterial and viral infections and in a case when the physician is not sure about the diagnosis he often prescribes antibiotics.


Externalized Responsibility


Few studies have revealed that although physicians acknowledge that inappropriate and overuse of antibiotic prescribing is definitely a problem, many physicians perceive the problem as being one driven by physicians other than themselves, particularly physicians from other specialties.
To overcome this factors Antibiotic Stewardship Programs (ASPs) had been developed. Antibiotic stewardship efforts are aimed at minimizing the risk of antibiotic resistance by ensuring that these drugs are prescribed appropriately. This means limiting antibiotic use to treating known or suspected bacterial infections and making sure that patients receive the right antibiotic at the right dosage. The core elements of ASP include demonstrated commitment to antibiotic stewardship principles, the implementation of at least 1 policy or practice aimed at improving antibiotic prescribing, tracking and reporting of antibiotic use, and the provision of educational resources to clinicians and patients.
For example, commitment to antibiotic stewardship can be demonstrated through the use of public commitment letters. One study revealed that physicians who displaying poster-sized commitment letters in their examination rooms lead to 20 percent reduction of prescribing inappropriate antibiotics than their peers. Physicians can also set their own practice policies using evidence-based diagnostic criteria and treatment recommendations that adhere to national guidelines.
Finally, tracking and reporting of antibiotic use can also ensure that physicians are aware of their own inappropriate prescribing practices so that they can rectify themselves. One study conducted which revealed that an audit and feedback intervention in which primary care physicians were provided with their own prescribing data significantly improved prescribing habits for common acute respiratory tract infections. However, a follow-up study revealed that the impact of this intervention was limited for the time being, with prescribing returning to above-baseline levels after the termination of the audit and feedback intervention.
To read the details of the article log on to
http://pediatrics.aappublications.org/content/141/6/e20174124
To read details about the Core Elements of Hospital Antibiotic Stewardship Programs (ASPs) log on to
https://www.cdc.gov/antibiotic-use/healthcare/implementation/core-elements.html
Dr. Monojit Mandal is a consultant Pediatrician and is working under Prof. (Dr.) Asok Kumar Datta, Head of the Department of
Paediatrics, Burdwan Medical College & Hospital.
Source : AAP JOURNAL