Asthma may cause fertility problems in women: study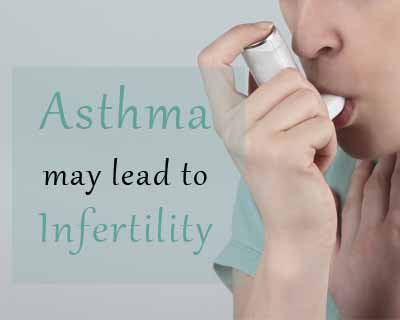 Asthma not only takes its toll on lungs, but can also make it harder for women to get pregnant.
A new study has revealed that asthmatic women may take more time to conceive and have a lower pregnancy rate than those without the lung diseases.
Dr. Archana Dhawan Bajaj, gynaecologist and obstetrician, Nurture IVF Centre, explained that asthma's effect on fertility increases with time and age and so, the female patients should conceive at an early age and step up their asthma treatment before getting pregnant.
Asthma is a chronic respiratory disorder due to inflammation of the airways in our lungs. Some of the common symptoms of asthma include breathlessness, chest tightness, and night cough among many. Often the affected person finds it extremely difficult to breathe.
In early age, boys are twice more likely to suffer from asthma than girls. However, this ratio gets reversed as they grow up. Pre-pubertal girls suffer from severe asthma attacks as the hormones change. The peak is observed at menopause when women are twice likely to suffer from asthma as compared to men of the same age.
What make asthma so severe in women are their reproductive hormones. When it comes to women and asthma, the ability to breathe can be affected by menstrual cycle, pregnancy and eventually menopause.
Creating awareness among patients is as fundamentally significance as adherence to treatment might. It is important that women take utmost care when conceiving, informed Dr. Bajaj.
Dr. Randeep Guleria, Head of Department, Pulmonology and Sleep Disorder at AIIMS says, "Women need to be very careful of asthma triggers like use of biomass fuels (for cooking), passive smoking, smoking, alcohol consumption and other environmental factors along with their fluctuating hormones, during different time of month."
He added, "To further compound the problem, asthma in women is a much stigmatized condition. Women with asthma are looked upon as people with lifelong compromised health. But asthmatic women can get pregnant and have a normal delivery."
According to Dr. Guleria, inhalation therapy for asthma is recognized as the most preferred form of treatment worldwide, with developed countries like USA and UK adopting inhalers as an integral part of asthma therapy.
"This therapy is so safe and easy to use for expecting mothers and women who are breastfeeding. It is important to note that asthma is not a transmitted disease. As opposed to oral therapy, inhalers are highly effective, safe and cost effective not only for women but any asthmatic patient. In India, however, due to many myths and beliefs about inhalation therapy being common, the use of oral corticosteroids is rampant," he said.
The study is published in the European Respiratory Journal.