Asthma increases risk of postpartum depression in mothers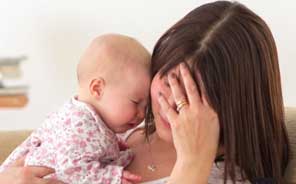 CANADA: Postpartum depression (PPD) is one of the most common problems experienced by women during pregnancy. Now, according to a recent study, the presence of asthma in mothers further increases the risk of developing PPD.
The study, published in The Journal of Allergy and Clinical Immunology: In Practice has found that women with asthma are more likely to suffer from postpartum depression.
Several epidemiological studies have demonstrated an increased risk of depression in asthma patients, but the impact of asthma during pregnancy on PPD remains unknown. Lucie Blais, Faculty of Pharmacy, Université de Montréal, Montréal, Québec, Canada, and colleagues assessed the association between maternal asthma and postpartum depression in a population-based cohort study retrieved from administrative databases.
The researchers extracted a cohort of 35,520 pregnancies in women with asthma during pregnancy and 197,057 pregnancies in women without asthma who delivered between 1998 and 2009 from the Quebec Asthma and Pregnancy Database. They were followed from day of delivery up to 1 year postpartum. A generalized estimating equation model was used to estimate the adjusted odds ratios of postpartum depression with 95% CIs in women with asthma during pregnancy versus women without asthma.
Also Read: Brexanolone lifts postpartum depression within days: Lancet
Key findings of the study include:


Of the 232,577 subjects, at 1 year postpartum, PPD developed in 6.1% of women with asthma versus 2.9% of women without asthma.


Women with asthma were more likely to have PPD at 1 month postpartum, (OR 1.32; 95% CI: 1.15 - 1.52) and 3 months postpartum.


The risk of PPD was higher in asthmatic women without a history of depression at both 3 months and 1 year postpartum.


Also Read: 22% of new mothers in India suffer from postpartum depression: WHO
Early exposure to stress that causes glucocorticoid resistance (induces inflammation), inflammatory cytokines, and the learned helpless model of depression are some possible reasons for the link, investigators noted.
In addition, some women may stop taking asthma medication for fear of harming their baby, which can cause a domino effect of uncontrolled asthma, anxiety, and depression. Data on asthma severity and or/control was not collected in this study.
"A close monitoring of signs of depression for pregnant women with asthma is indicated, allowing prompt and efficient interventions if needed," concluded the authors.
For detailed research log on to:
https://doi.org/10.1016/j.jaip.2018.09.026
Source : With inputs from Journal of Allergy and Clinical Immunology: In Practice