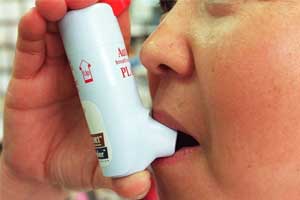 Children having wheezing or asthma in early childhood are at a higher risk of developing obesity, according to a new study published in the European Respiratory Journal.
Lida Chatzi, the senior author and professor of preventive medicine at USC, and colleagues conducted the study to examine whether early-onset asthma and related phenotypes are associated with the risk of developing obesity in childhood.
Findings of the study is a  turnabout for children's health as obesity has often been seen as a precursor to asthma in children, not the other way around.
This is the largest study yet about early-onset asthma and obesity. It focused on more than 20,000 youths across Europe. It shows that, beyond wheezing and shortness of breath, asthma can lead to bodies that make young people more susceptible to other health problems later in life.
"Asthma and obesity pack a one-two punch against children's health, which raises concern about a public health crisis due to their prevalence," says Dr. Chatzi.
"We care about this issue because asthma affects approximately 6.5 million children – about one in 10 – in the United States," Chatzi said. "It's a chronic childhood disorder and if it increases the risk of obesity, we can advise parents and physicians on how to treat it and intervene to help young children grow up to enjoy healthy, adult lives."
For the study, the authors investigated 21,130 children born between 1990 and 2008 across nine countries, including Denmark, France, Germany, Greece, Italy, the Netherlands, Spain, Sweden, and the United Kingdom.
The children were diagnosed by physicians with asthma at 3 to 4 years old and the scientists followed toddlers into childhood up to 8 years of age. Their goal was to focus on the health risks of early-onset asthma.
Key Findings:
Children diagnosed with asthma had a 66 percent higher risk of becoming obese than those without an asthma diagnosis.
For children with persistent wheezing symptoms, their risk of developing obesity was 50 percent greater compared to children without such symptoms.
Children with active asthma were nearly twice as likely to develop obesity than those without asthma and wheezing.
The findings are consistent with previous, but smaller, longitudinal studies conducted in the United States that observed asthma increased the risk of obesity.
The causal direction between asthma and obesity is not well understood. Asthma is regarded as a barrier to children's physical activity that might lead to accumulation of fat in the body, while higher doses of inhaled corticosteroids had been hypothesized to increase the risk of obesity in children with asthma. According to the study, children with asthma who used medication had the strongest risk of developing obesity.
"Asthma may contribute to the obesity epidemic. We urgently need to know if prevention and adequate treatment of asthma can reduce the trajectory toward obesity," said Frank Gilliland, professor of preventive medicine at the Keck School of Medicine, who participated in the study.
For further reference follow the link: http://dx.doi.org/10.1183/13993003.00504-2018