................................ Advertisement ................................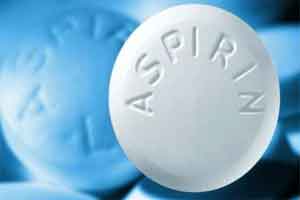 Taking aspirin in combination with a high-dose proton pump inhibitor (PPI) provides protection against the development of esophageal cancer in people at high risk for the malignancy, according to a study presented at the American Society of Clinical Oncology (ASCO) conference in Chicago.
The study was conducted by Janusz Jankowski, MD, of the Royal College of Surgeons, Ireland, and colleagues to determine the effect of combined use of aspirin and PPI esomeprazole on people at high risk for esophageal cancer.
In the ASPECT trial, 2,563 patients with Barrett's esophagus being treated at Canadian and British hospitals were randomized to receive either 20 or 40mg of the PPI esomeprazole, with or without a low dose of aspirin.
................................ Advertisement ................................
Patients with Barrett's are at around a fifty times greater risk of esophageal cancer, and around one in 50 will go on to develop the disease. Of those who do develop cancer, only 12% will survive for 10 years or more.
................................ Advertisement ................................
The researchers followed the four groups of patients for an average of 8.9 years. They found the most effective combination was high dose esomeprazole with low dose aspirin, followed by high dose esomeprazole. Patients who took the high dose of esomeprazole (40mg) plus aspirin combination for at least seven years were 20% less likely to develop oesophageal cancer than if they had been untreated.
"Our results are very exciting. Oesophageal cancer is hard to diagnose and hard to treat. So, we're pleased that such a cheap and well-established medicine can prevent and/or delay development of cancer for these patients. Our hope is that this may also offer an opportunity to prevent oesophageal cancer in wider populations," said Professor Jankowski.
Currently, patients with Barrett's esophagus are monitored using endoscopy for neoplastic lesions but this approach has "a modest" impact on outcomes and is "supported by low-quality evidence".
Dr. Justine Alford, from Cancer Research UK, said: "Esophageal cancer can be hard to diagnose at an early stage and so can be hard to treat; there hasn't been a significant improvement in survival for decades. Cancer Research UK has therefore identified oesophageal cancer as a cancer of unmet need, along with brain tumors, lung cancer, and pancreatic cancer. We will increase our investment in researching these cancers two- to threefold over the next five years."
Medha Baranwal joined Medical Dialogues as an Editor in 2018 for Speciality Medical Dialogues. She covers several medical specialties including Cardiac Sciences, Dentistry, Diabetes and Endo, Diagnostics, ENT, Gastroenterology, Neurosciences, and Radiology. She has completed her Bachelors in Biomedical Sciences from DU and then pursued Masters in Biotechnology from Amity University. She has a working experience of 5 years in the field of medical research writing, scientific writing, content writing, and content management. She can be contacted at medha@medicaldialogues.in. Contact no. 011-43720751
To know about our editorial team click here
................................ Advertisement ................................