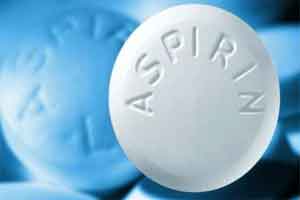 Low-dose aspirin is not beneficial for healthy older adults in prolonging survival, free of cardiovascular disease, dementia or disability, instead, it increases the risk for bleeding (hemorrhage) in the brain and digestive tract.
These are the findings of the ASPirin in Reducing Events in the Elderly (ASPREE) trial published in The New England Journal of Medicine.
Aspirin has a well-established role in the secondary prevention of cardiovascular events. John J. McNeil, head of the Department of Epidemiology and Preventive Health at Monash University, Melbourne, Australia, and colleagues conducted the study to determine its role in the primary prevention of cardiovascular disease in older adults having an increased risk.
For the trial, the researchers enrolled 19,114 people in Australia and the United States aged 70 years of age or older who did not have cardiovascular disease, dementia, or disability from 2010 through 2014.  They were randomly assigned to receive 100 mg of enteric-coated aspirin or placebo.
The primary endpoint was a composite of death, dementia, or persistent physical disability. Secondary endpoints included major hemorrhage and cardiovascular disease (defined as fatal coronary heart disease, nonfatal myocardial infarction, fatal or nonfatal stroke, or hospitalization for heart failure).
Key Findings:
After a median of 4.7 years of follow-up, the rate of cardiovascular disease was 10.7 events per 1000 person-years in the aspirin group and 11.3 events per 1000 person-years in the placebo group (hazard ratio, 0.95; 95% confidence interval [CI], 0.83 to 1.08).
The rate of major hemorrhage was 8.6 events per 1000 person-years and 6.2 events per 1000 person-years, respectively (hazard ratio, 1.38; 95% CI, 1.18 to 1.62; P<0.001).
treatment with 100 mg of low-dose aspirin per day did not affect survival free of dementia or disability.
Among the people randomly assigned to take aspirin, 90.3 percent remained alive at the end of the treatment without persistent physical disability or dementia, compared with 90.5 percent of those taking a placebo.
Rates of physical disability were similar, and rates of dementia were almost identical in both groups.
The group taking aspirin had an increased risk of death compared to the placebo group: 5.9 percent of participants taking aspirin and 5.2 percent taking placebo died during the study.
the rates for major cardiovascular events — including coronary heart disease, nonfatal heart attacks, and fatal and nonfatal ischemic stroke — were similar in the aspirin and the placebo groups. In the aspirin group, 448 people experienced cardiovascular events, compared with 474 people in the comparably-sized placebo group.
As would be expected in an older adult population, cancer was a common cause of death, and 50 percent of the people who died in the trial had some type of cancer.
Heart disease and stroke accounted for 19 percent of the deaths, and major bleeding for 5 percent.
"The results will have a significant impact on guidelines about aspirin use for prevention and in daily clinical conversations between clinicians and their older, healthy patients regarding whether aspirin should or should not be used for achieving disability-free longevity," said Raj C. Shah, an associate professor of family medicine with the Rush Alzheimer's Disease Center in Chicago.
Taking aspirin did not affect the onset of dementia or physical disability.
"Continuing follow-up of the ASPREE participants is crucial, particularly since longer-term effects on risks for outcomes such as cancer and dementia may differ from those during the study to date," said Dr. Evan Hadley, director of NIA's Division of Geriatrics and Clinical Gerontology. "These initial findings will help to clarify the role of aspirin in disease prevention for older adults, but much more needs to be learned. The ASPREE team is continuing to analyze the results of this study and has implemented plans for monitoring participants."
As these efforts continue, Hadley emphasized that older adults should follow the advice of their own physicians about daily aspirin use. It is important to note that the new findings do not apply to people with a proven indication for aspirin such as stroke, heart attack or other cardiovascular diseases.
For further reference follow the link: 10.1056/NEJMoa1805819