Aspirin to prevent cardiovascular diseases: Dr Keshava R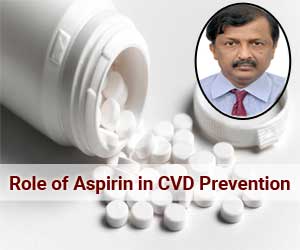 The role of aspirin to prevent cardiovascular disease was considered for long as the best preventive measure till 2019."An aspirin a day keeps heart attack away" was a famous slogan everywhere.
This holds good for secondary prevention i. e . for people with established cardiovascular diseases like ischemic heart disease, CVA or peripheral vascular disease where the benefits of aspirin in prevention was better than the risk of bleeding with aspirin.
However, three trials released in recently have changed the line of thinking recently in primary prevention
1. ASPREE trial showed 100 mg aspirin given over 5 yrs did not reduce the rate of fatal heart attack, strokes or heart failure in healthy individuals compared to placebo in more than 11,000 patients. There was a 38% increased risk of major bleeding in the brain and stomach. There was a higher incidence of colon cancer.
2. ARRIVE study presented at ESC, Munich 2018 also showed no benefits in primary prevention by using aspirin 100 mg over 5 yrs compared to placebo in low-risk patients. Higher risk of GI bleeds noted.
3. ASCEND trial published at the same conference of use of aspirin in diabetics showed following conclusion
a. Aspirin significantly reduced the risk of serious vascular events but also significantly increased the risk of major bleeding
b. The absolute benefits of avoiding serious vascular events were largely counterbalanced by the increased risk of bleeding
Based on the above three trials following are the guidelines as per ACC/AHA


Low-dose aspirin might be considered for primary prevention of ASCVD in select higher ASCVD adults aged 40-70 years who are not at increased bleeding risk.


Low-dose aspirin should not be administered on a routine basis for primary prevention of ASCVD among adults >70 years.


Low-dose aspirin should not be administered for primary prevention among adults at any age who are at increased bleeding risk.


Dr Keshava R is Senior Consultant Cardiologist at Fortis Hospital, Cunningham Road, Bangalore