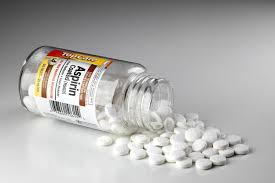 No data is available regarding comparison of aspirin with direct oral anticoagulants in the prevention of venous thromboembolism after total hip or total knee arthroplasty.Dr.David R. Anderson et al.performed a multicenter, double-blind, randomized, controlled trial EPCAT II  in which they investigated about  3500 patients undergoing arthroplasty.The patients were given rivaroxaban and after 5 days of rivaroxaban they were switched to aspirin for continued VTE prophylaxis.The investigators found that Aspirin Switch for VTE Prevention After Hip/Knee Arthroplasty was not only  Safe, and Effective but was Cost-Saving also.The results of the study have been published in New England Journal of Medicine.
In EPCAT II investigators randomized some 3500 patients undergoing arthroplasty. All received an initial 5 days' postoperative treatment with  10 mg of rivaroxaban. Then, knee-replacement patients were randomized to an added 9 days' prophylaxis with either with rivaroxaban 10 mg or aspirin 81 mg.For those undergoing hip arthroplasty, they were randomly assigned to rivaroxaban 10 mg or aspirin 81 mg for 30 days.
It was found that the incidence of symptomatic venous thromboembolism by 90 days (the primary effectiveness outcome) was similar in the two groups; bleeding episodes (the primary safety endpoint) were also similar. The researchers  concluded that the trial "has established a prophylaxis regimen against which all strategies to prevent venous thromboembolism after joint replacement will be compared."There was a noninferior difference between the rate of VTE at 90 days in patients switched to aspirin at that time and the rate observed in patients who received prolonged rivaroxaban, reported investigators.
While oral anticoagulation for VTE prophylaxis is commonly accepted clinical practice, as well as supported by guidelines, Anderson said his research group questioned whether practice could be simplified to save money, as well as potentially provide a safer alternative with aspirin. For patients undergoing total hip or total knee arthroplasty, anticoagulant prophylaxis is recommended for a minimum of 14 days and as many as 35 days.
Anderson said that given the safety and efficacy of aspirin, the medical community should "take a hard look" at their data for how to best prevent VTE in these surgical patients. "Given the number of people that undergo these procedures, this would be a significant savings to patients and the healthcare system to make this change," he said.
For further reference log on to :