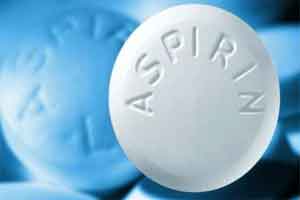 A new review of 71 medical studies suggests that regular use of aspirin could help in the treatment of some cancers.
The review published in the journal PLOS ONE finds that the evidence is growing that low-dose aspirin used as an adjuvant treatment of cancer is associated with an increased survival and a reduction in metastatic spread.
Peter C. Elwood and associates did a systematic search and meta-analyses of published studies of low-dose aspirin taken by patients with a diagnosis of cancer. Overall meta-analyses of the 71 studies were presented, based on a total of over 120 thousand patients taking the drug.
The systematic review, which looked at the survival of 120,000 patients with cancer who took aspirin, compared with 400,000 patients who did not, showed that at any time following the diagnosis of some cancers the proportion of patients who were still alive was 20-30% greater in those taking the drug.  The spread of cancer to other parts of the body was also substantially reduced in patients using aspirin.
"The use of low-dose Aspirin as a preventive in heart disease, stroke, and cancer is well established but the evidence is now emerging that the drug may have a valuable role as an additional treatment for cancer too", said Peter Elwood, the lead author of the study.
Evidence in different cancers
Colorectal cancer
The evidence on colorectal cancer is consistent that aspirin is associated with a reduction in colorectal mortality and a probable reduction in the incidence of metastatic spread.
Breast cancer
There is evidence of benefit from aspirin taken by patients with breast cancer as an adjuvant treatment in terms of a reduction in breast cancer deaths and a significant reduction in the incidence of metastatic spread. Evidence of a reduction in all-cause mortality of these patients is suggestive, but not consistent across the studies.
Prostate cancer
The evidence on prostate cancer is therefore fairly consistent for both prostate cancer mortality, and the hazard ratio for all-cause mortality also suggests benefit.
Pooled estimates of the reductions in metastatic spread associated with aspirin in different cancers are also suggestive of benefit.
Reports on bleeding
Very few patients had serious bleeding.  Amongst those who had, the proportion of patients taking aspirin who had a 'serious' bleed was no greater than the proportion of patients not taking aspirin who had experienced a 'spontaneous' stomach bleed due to causes other than aspirin.
All this evidence of benefit is however limited. First, it comes from observational studies of patients who took aspirin for reasons other than the treatment of cancer, and not from appropriate randomized trials designed to test aspirin and cancer.
Furthermore, the evidence is not entirely consistent and a few of the studies failed to detect benefit attributable to aspirin.
"Every possible effort should be made to encourage observational studies. More information is required on markers of likely benefit from aspirin such as the PIK3CA mutation, and on the optimal dose of aspirin for treatment, taking account of age, body weight smoking and possibly other personal factors," write the authors.
For reference log on to https://doi.org/10.1371/journal.pone.0203957