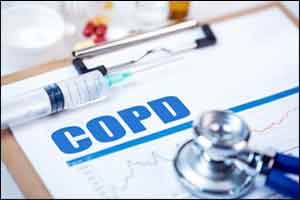 Use of Aspirin is linked with the reduced experience of COPD exacerbation, according to the findings presented at ATS 2018 International Conference. Acute exacerbation of COPD reported was reduced by 18% among patients on aspirin when compared with those not on aspirin therapy. Aspirin is found to have anti-inflammatory properties which inhibit platelet activity and has been associated with reduced mortality among patients with the chronic obstructive pulmonary disease.
A. Fawzy and his associates conducted a study to evaluate whether aspirin use is associated with prospectively assessed chronic obstructive pulmonary disease exacerbation (COPDE).
For the study, the researchers assessed the SPIROMICS (Subpopulations and Intermediate Outcome Measures in chronic obstructive pulmonary disease Study)multicenter observational cohort, specifically involved patients who self-reported daily aspirin use. The team then used propensity scoring to develop a 1:1 match of aspirin users and non-users. 1749 patients were included in the study with an average age of 67 years.
The participants with COPD (FEV1/FVC<70%) were followed for up to 36 months. COPDE were ascertained through quarterly structured telephone questionnaires and categorized as moderate (symptoms treated with antibiotics or oral corticosteroids) or severe (requiring emergency department visit or hospitalization). Aspirin users were matched one-to-one without replacement with non-users. Multiplicative interactions of aspirin use with the emphysematous, chronic bronchitis, inflammatory and cardiovascular phenotypes were tested to investigate potential underlying mechanisms.
The study found that among the total participants 45.3% reported daily aspirin use at baseline. All baseline characteristics became balanced between aspirin users and non-users. Half the sample did not experience any COPD. Only the interaction between aspirin use and presence of chronic bronchitis was significant.
The study concluded that daily aspirin use is associated with reduced rate of COPD exacerbations. In stratified analysis, the protective effect was only present among participants with chronic bronchitis at baseline.
Chronic obstructive pulmonary disease (COPD), which includes chronic bronchitis and emphysema, is a chronic lung disease that makes it hard to breathe.
For more reference log on to: http://abstractsonline.com/pp8/#!/4499/presentation/13683