Ascariasis mimicking gall stone disease: A Case Report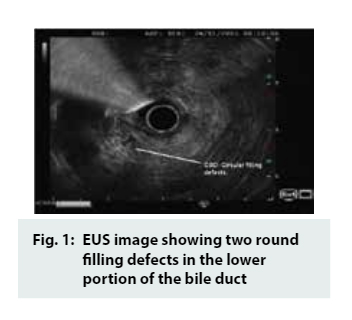 A case report published in the Journal of The Association of Physicians of India reports the case of a 47-year-old female patient having biliary ascariasis in common bile duct that mimicked choledocholithiasis on endoscopic ultrasound.
The patient was presented with features of biliary colic with deranged liver function tests. Endoscopic ultrasound from 2nd part of the duodenum revealed two round filling defects in the lower end of the common bile duct (CBD) suggesting choledocholithiasis. On examining from the first part of the duodenum, upper and mid common bile duct showed two linear shadows with anechoic center typical of worm in the bile duct.
The diagnosis was confirmed by endoscopic removal of single Ascaris lumbricoides that was folded on itself within the common bile duct, hence being seen as two round filling defects mimicking choledocholithiasis.
"This report shows that in cases of biliary colic, suspicion of biliary ascariasis should be kept especially in highly endemic countries like India. It can mimic choledocholithiasis owing to the folding of the worm inside the CBD. A careful examination using endosonography followed by ERCP for extraction usually gives the diagnosis," write the authors.
For further reference follow the link:
http://www.japi.org/january_2019/20.html