................................ Advertisement ................................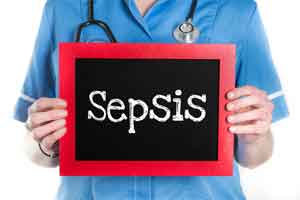 A new study published in the journal Nature Medicine suggests that artificial intelligence (AI) could help identify the best way to treat patients with sepsis by assessing the patient's vital signs and recommending the best treatment approaches.
Sepsis is the third leading cause of death worldwide and the main cause of mortality in hospitals but the best treatment strategy remains uncertain. In particular, evidence suggests that current practices in the administration of intravenous fluids and vasopressors are suboptimal and likely induce harm in a proportion of patients.
Read Also: Vitamin C reduces mortality, ICU stay in sepsis
................................ Advertisement ................................
To overcome this sequential decision-making problem, the researchers developed a reinforcement learning agent, the Artificial Intelligence (AI) Clinician, which extracted implicit knowledge from an amount of patient data that exceeds by many-fold the life-time experience of human clinicians and learned optimal treatment by analyzing a myriad of (mostly suboptimal) treatment decisions.
The technology has been developed by the researchers at the NIHR Imperial Biomedical Research Centre, The system 'learnt' the best treatment strategy for a patient by analyzing the records of about 100,000 hospital patients in intensive care units and every single doctor's decisions affecting them.
................................ Advertisement ................................
The system analyzed the medical records of 96,000 US patients with sepsis in intensive care units. Using a process called reinforcement learning – where computers learn how to make decisions and solve a problem – the AI Clinician went through each patient's case and worked out the best strategy of keeping a patient alive.
Read Also: Antibiotics for Sepsis—Striking the balance
The system then decided the best treatment strategy for each patient with sepsis. The results revealed that 98 percent of the time, the AI system matched or was better than the human doctor's decision.
The study found that mortality was lowest in patients where the human doctor's doses of fluids and vasopressor matched the AI system's suggestion. However, when the doctor's decision differed from the AI system, a patient had a reduced chance of survival. The study also revealed that when the doctor's decision varied from the AI Clinician's suggestion, it was on average to administer too much fluid and too little vasopressor but importantly it varied between individual patients.
"We demonstrate that the value of the AI Clinician's selected treatment is on average reliably higher than human clinicians," write the authors.
For more reference log on to https://www.nature.com/articles/s41591-018-0213-5
Vinay Singh joined Medical Dialogue as Desk Editor in 2018. He covers the medical speciality news in different medical categories including Medical guidelines, updates from Medical Journals and Case Reports. He completed his graduation in Biotechnology from AAIDU and did his MBA from IILM Gurgaon. He can be contacted at editorial@medicaldialogues.in . Contact no. 011-43720751