Arterial thrombosis in leg associated with increased risk of cancer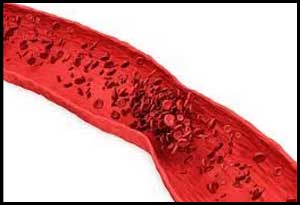 Arterial thrombosis in the leg is associated with an increased risk of cancer.Dr. Jens Sundbøll and associates conducted a study to evaluate the risk of cancer in patients of arterial thrombosis.The researcher found that the cancer risk is continuously increased but decreases in strength over time. After the first six months with 3-fold increased risk compared with a control group without blood clots, it falls during the next six months to 'only' a forty percent increased risk. Once the first year after the blood clot has passed, the risk of cancer is continuously 15 percent increased.The study has been published in the journal Circulation.
"It is especially, but not only, the smoking-related forms of cancer that show up after the arterial thrombosis. The risk is highest for lung and pancreatic cancer, both of which are related to smoking. However, other forms of cancer such as colon cancer and leukaemia are also overrepresented," says Jens Sundbøll about the research results.


The study was carried out by comparing the number of cancer cases in patients with arterial blood clots in the leg with the number of cancer cases in the general population. Data from the Danish National Patient Registry were used to identify patients with blood clots, and the Danish Cancer Registry was used to follow the patients for cancer.

"6,600 patients might not sound like much, but it is in fact among the largest data materials for lower limb arterial thrombosis in the world. This is also the first time that the association with cancer has been examined," says Jens Sundbøll.

Whereas an ordinary venous blood clot causes the leg to swell, contract and become warm and red, the characteristics of the arterial blood clot are almost the opposite. Namely that the leg becomes pale and cold. As Jens Sundbøll puts it, cases, where doctors come across an arterial blood clot, are those where they need to remember the five p's: pallor, pulselessness, pain, paresis/paralysis as well as paraesthesia.

"With the high relative figures, one should bear in mind that arterial thromboses are relatively rare with 1.5 cases per 10,000 persons annually, compared to 5-10 cases per 10,000 annually for deep venous thrombosis," says the researcher.


"We know that blood platelets and coagulation factors change in cancer patients and that the blood has an increased tendency to form blood clots in cancer patients. It is therefore likely that undetected cancer discloses itself through a lower limb arterial thrombosis. Similarly, one can imagine that undetected cancer located in the close proximity of the arteries supplying the leg grows into the arteries and sends off thrombi via the bloodstream down into the leg," says Jens Sundbøll.
Source : With inputs Journal Circulation