Are we really caring about our kid's tender hearts? Dr Murtaza Kamal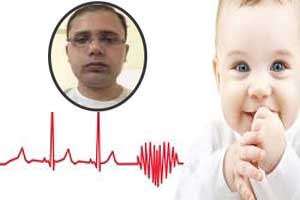 With a present population of 1.3 billions, India ranks second presently as the most populous country. It has found its place among the fastest growing major economies. Globally approximately 2.5 million kids are born annually each year. Many of these neonates are born with defects which are present since birth- Congenital birth defects. Among these birth defects, congenital heart disease (CHD) is the most common accounting for 28-30%. The birth prevalence of CHD is 8-10/1000 live births. Approximately 2.4 lakh children are born with CHD each year in our country. Although the birth prevalence is more or less constant globally, the epidemiology of CHD is quiet different in our country compared to the western world.
In 85% cases, the aetiology of CHD is unknown. The role of heredity is found in only 10-15% cases. Maternal viral exanthems like rubella have been found to have a good association with the occurrence of CHD in neonates. Maternal diabetes, smoking, alcohol intake further adds on to the list. Maternal exposure to teratogenic drugs and agents especially during the first trimester of pregnancy, increased maternal BMI, increasing age of the parents, consanguineous marriages, invitro fertilization pregnancy are some other cases which have been attributed to the list. Family history of CHD adds to the risk of a child of having CHD.
The birth prevalence of CHD has increased over time after 1995. This is mainly due to the better diagnostic modalities which have become easily available now for the screening of the congenital heart diseases. Due to high consanguineous marriage rate in Asian countries, the prevalence is higher in this part of the world. Severe CHD which requires intervention in the infancy period is 1.5-1.7/ 1000 live births. In high-income countries with low birth rates and high success rates of CHD interventions, the prevalence in adults equalled prevalence in children. Whereas in India the survival to adulthood much lower. Only 10-15% of children undergo an intervention. In a study done at a public hospital of our capital only 14% of the adults had undergone a cardiac surgery.
In a recent paper by eminent pediatric cardiologist Dr. Professor Anita Saxena from AIIMS, New Delhi, approximately 14000, 6500 and 1500 neonates are born annually with critical CHD (requiring intervention in the 1 st year of life) in the northern, southern and northeastern parts of our country respectively whereas only 17%, 72% and 0% of them receive appropriate interventional treatment for the same respectively in these 3 regions of our country. This reflects the huge disparity in the level of care which is available to these infants in different regions of the same country.
Prevention is always and always better than cure. Prevention of CHD is difficult as the cause is unknown in majority of the cases. Reduction of the fertility rate will have a positive effect as reducing the number of kinds born will automatically reduce the number of kids born with CHD. Educating the women and empowerment of women will help in this domain. Counselling of the parents for the avoidance of the known risk factors should be done.
In India approximately 40, 000 kids are born with congenital rubella annually and this is one third of the global burden. Vaccinating the school children will prevent this disease and will reduce the incidence in turn of maternal rubella during pregnancy. Vaccination against rubella has already been included in the schedule of immunization programme of our country.
Folic acid supplementation in the foodgrains has shown to have an effect on the reduction of CHD in 2 studies from Canada. Fortification and supplementation of folic acid is another strategy which can be used for the reduction of birth prevalence of CHD in our country.
Appropriate and adequate control of maternal diabetes and hypertension and avoidance of maternal active and passive smoking along with alcohol consumption will definitely have a role in the reduction of CHD incidence. Avoidance of easily available over the counter drugs and teraogenic drugs needs to be done. Appropriate genetic councilling of the parents and relatives of a child with CHD needs to be done and they should be informed about the risks associated with further pregnancies.
Fetal echo is a useful tool for screening of CHD. It is usually done around 18-20 weeks of gestation of pregnancy. Termination of pregnancy beyond 20 weeks is unlawful according to the MTP act in our country.
Advanced cardiac care: is practically unavailable to 90% babies in developing countries. There is a huge disparity between the health care facility available between the developing and the developed countries. In North America 1 cardiac centre is available to a population of 0.12 million whereas in Asia it is available to a population of 16 million. In North America, one cardiac surgeon is available to a population of 3.56 million whereas in Asia it is available to a population of 25 million. Presently our country just has 130 paediatric cardiologists.
Out of the 2.4 lakh children born in our country annually approximately one forth require an early intervention in infancy for survival. In the last decade a lot of cardiac centres have come up in our country but still, the number is confined to just about 60. And most of them are in the private sector which is not available to the masses of our country. Resources in our country are not only inadequate but also maldistributed. The southern states have more centres than the rest of India. Eastern and central parts of the country have practically no access to affordable treatment.
Our problems are never-ending. Rapid population growth along with lack of health care facilities, competing priorities, inefficient and inadequately equipped infrastructure along with a deficit of trained staff are some to count on. Antenatal detection of CHD is very low in our country. Many insurance companies do not cover the cost of treatment for CHD. A few states have government schemes to support the CHD treatment. A few charitable trusts are also coming up; of course with their long waiting list.
Religious, socio-cultural practices, seeking medical help at an advanced stage, gender bias in treatment are other issues.
So, we need to optimally utilise this limited resources so that maximum children are benefitted. One size fits all approach is not tenable. We need to start mass immunisation against rubella and FA fortification. A comprehensive programme which caters to the well being of children is the need of the hour.
Periodic education to sensitize practising physicians and paediatricians is needed. People should be made aware of the availability of advanced CHD care in India. Screening neonates with pulse oximetry at time of discharge should be started. Establishing more centres along with the motivated team and government support is needed. Establishing paediatric cardiac program with adult cardiac programme should be undertaken.
So, this is a huge challenge for us as the number is large and resources are limited. Many of them are underdiagnosed and untreated. We really need to go a long way in the care of CHD in our country.
The author is MBBS, MD (Paediatrics), DNB (Paediatrics), DNB-SS (Fellow Peds Cardio) Pediatric Cardiologist Star Hospitals. He is a member Editorial Board, Pediatrics at Specialty Medical Dialogues.