................................ Advertisement ................................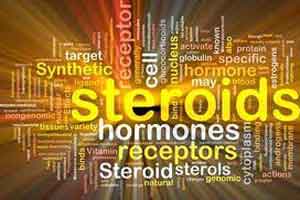 Dr.Stern A and associates in a review examined effects of treating people with pneumonia using corticosteroids on numbers of deaths, response to treatment, treatment complications, and side effects. The researchers compared treatment with corticosteroids in addition to antibiotics with placebo or no treatment.
Pneumonia is quite common, and despite adequate antibiotic treatment, complications and sometimes death can occur.Steroids have been found to be beneficial in the treatment of some infections. However, their beneficial effects are often offset by serious side effects, mainly when used at high doses and over the long term.
The researchers included 17 studies evaluating systemic corticosteroid therapy (given intravenously or by tablets) for people with pneumonia (2264 participants; 1954 adults and 310 children). We included 12 new studies in this update and excluded one previously included study. All included studies evaluated people who had acquired pneumonia in the community (community-acquired pneumonia (CAP)) being treated in the hospital; no studies assessed people who had developed pneumonia while in the hospital or who were on breathing machines (mechanically ventilated).
................................ Advertisement ................................
It was found that
................................ Advertisement ................................
Steroids reduced deaths in adults with severe CAP, but not in people with the non-severe CAP. Eighteen adults with severe CAP need to be treated with corticosteroids to prevent one death.
People with CAP treated with corticosteroids had lower clinical failure rates (death, worsening of imaging studies, or no clinical improvement), shorter time to cure, a shorter hospital stay, and fewer complications. We found good-quality evidence that corticosteroids reduced clinical failure rates in children with pneumonia, but the 

data

 were based on a small number of children with different types of pneumonia.
People treated with corticosteroids had higher blood glucose levels (

hyperglycaemia

) than those not treated with corticosteroids. Corticosteroid treatment was not associated with increased rates of other serious adverse events.
Corticosteroids were beneficial for adults with the severe CAP. People with the non-severe CAP may also benefit from corticosteroid 

therapy

, but with no survival advantage.
It was concluded that Corticosteroid therapy reduced mortality and morbidity in adults with the severe CAP. Corticosteroid therapy reduced morbidity, but not mortality, for adults and children with the non-severe CAP.
For further reference log on to :
http://onlinelibrary.wiley.com/doi/10.1002/14651858.CD007720.pub3/pdf
Dr Kamal Kant Kohli-MBBS, DTCD- a chest specialist with more than 30 years of practice and a flair for writing clinical articles, Dr Kamal Kant Kohli joined Medical Dialogues as an Editor-in-Chief for the Speciality Medical Dialogues section. Besides writing articles, as an editor, he proofreads and verifies all the medical content published on Medical Dialogues including those coming from journals, studies,medical conferences,guidelines etc.
Before Joining Medical Dialogues, he has served at important positions in the medical industry in India including as the Hony. Secretary of the Delhi Medical Association as well as the chairman of Anti-Quackery Committee in Delhi and worked with other Medical Councils in India. Email: editorial@medicaldialogues.in. Contact no. 011-43720751
To know about our editorial team click here
................................ Advertisement ................................