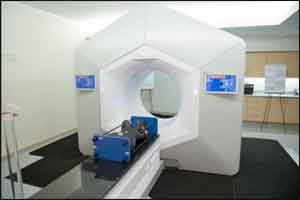 Radiation exposure during diagnostic imaging such as computed tomography (CT) contributes to a small, but potentially preventable percentage of cancers, yet a new study reports that 40% of hospitals surveyed do not routinely utilize CT shielding. Overall, 99% of the hospitals were aware that shielding can safeguard patients and 84% believed it to be beneficial, so why isn't it being used more routinely — a topic explored in the study published in Journal of Endourology, a peer-reviewed journal from Mary Ann Liebert, Inc., publishers. The article is available free on the Journal of Endourology website until December 21, 2017.
The article entitled "Prevalence of Protective Shielding Utilization for Radiation Dose Reduction in Adult Patients Undergoing Body Scanning Using Computed Tomography" was coauthored by Jaime Landman, MD and colleagues from the University of California, Irvine. In their survey of hospital shielding practices during CT imaging, the researchers focused on the protection of four radiosensitive organs: eyes, thyroid, breasts, and gonads.
For more details click on the link: http://dx.doi.org/10.1089/end.2017.0294
The following two tabs change content below.
Anjali Nimesh
Anjali Nimesh Joined Medical Dialogue as Reporter in 2016. she covers all the medical specialty news in different medical categories. She also covers the Medical guidelines, Medical Journals, rare medical surgeries as well as all the updates in medical filed. She is a graduate from Dr. Bhimrao Ambedkar University. She can be contacted at editorial@medicaldialogues.in Contact no. 011-43720751
Latest posts by Anjali Nimesh (see all)