How much salt to prescribe for different patient classes- Delnaaz T Chanduwadia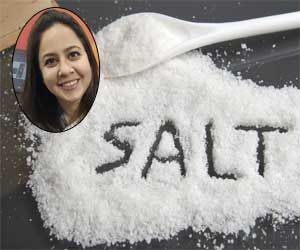 Salt has a very important place in all our lives when it comes to the palatability of food. If salt is not optimally added and cooked therein – the flavors and the taste of the food is not enhanced. The addition of salt- teaches us the importance of balance in life. Too much is toxic and too less is not worth it.
The WHO states that less than 2.3gms sodium i.e. roughly 1 teaspoon of salt is the ideal as a preventive measure for cardiovascular diseases. However, there is not adequate research to prove to be preventive at such a low level.
Before we get into salt and sodium- we need to be clear as to how much sodium does salt contain. Table salt contains 40% sodium.
| | |
| --- | --- |
| TEASPOON OF SALT | SODIUM CONTENT |
| 1 teaspoon | 2300 mg |
| ¾ teaspoon | 1725 mg |
| ½ teaspoon | 1150 mg |
| ¼ teaspoon | 575mg |
For a normal person with no health conditions, 5 grams salt per day is a very reasonable amount. palatable and doesn't affect health. But what is not taken into account is the packaged foods that we consume- during snack time or otherwise. These packaged and processed foods contain a high amount of salt. This salt is added as the salt pulls out water from foods, making it unavailable for microbial growth, thereby acting as a preservative.
Given the above, the average person consumes way too much salt than the recommended allowance. 9 to 12grams is the average daily consumption per day.
High Blood Pressure: Those with High blood pressure, should find out the cause of high blood pressure. However, in the interim- it would be beneficial to drop the salt intake as that would have a direct intake on reducing the blood pressure.
Salt intake of more than 5grms per day and potassium intake of less than 3.5grams per day is a definite cause for high blood pressure according to the WHO. This also increases the risk of cardiovascular diseases and stroke.
Cardiac patients and stroke: The American Heart Foundation says there is strong scientific support that cardiac patients should restrict their sodium intake to 1.5grams per day which is lesser than a teaspoon.
However, being below the 5-gram mark is not enough to cut cardiovascular risk as most people in developed countries are below this mark. Salt intake too high can be combated by balancing it out with a potassium-rich diet. E.g.: Fresh fruits, vegetables, salads, dairy, etc.
Renal disease: Those with altered glomerular hemodynamics, have shown to have detrimental effects with increased salt intake. It increases glomerular pressure and thereby causing an increase in filtration fraction. This is most important for those with high salt sensitivity. Therefore high sodium causes an altered balance, reducing filtration and therefore increasing the pressure.
As the stages of chronic kidney disease rise the salt allowance drops from a 4 to 4grams to 1 to 2 grams per day. Increased salt intake has also shown to increase the protein loss in urine- this could be a major risk factor for the decline in kidney function.
Kidney stones: Those with kidney stones should limit their salt intake to 4 to 5grams per day and strictly avoid table salt and processed meats and foods. Salt is the scaffolding on which the stone forms. Hence salt intake should be reduced. Working towards a better hydration status so as to facilitate better filtration.
Delnaaz T Chanduwadia is a Chief Dietitian at Jaslok Hospital and Research Centre.