Apply sunscreen lotion generously, as benefits more than risks: AAD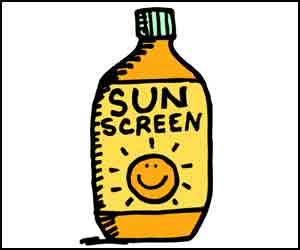 Apply sunscreen lotion generously comments American Academy of Dermatology experts on a new study that has found that application of 4 commercially available sunscreens under maximal use conditions resulted in plasma concentrations that exceeded the recommended threshold by the FDA .
According to experts at American Academy of Dermatology, the study addresses an important question about the potential for certain sunscreen ingredients to be absorbed in the bloodstream. As the study concludes, this is a small, pilot study and more research is needed before it can be determined if the absorption of sunscreen ingredients has any effects on a person's health. These sunscreen ingredients have been used for several decades without any reported internal side effects in humans. Importantly, the study authors conclude that individuals should not refrain from the use of sunscreen, which the AAD encourages as one component of a comprehensive sun protection plan as sunscreen use has been shown to reduce the risk of skin cancer in a number of scientific studies.
Skin cancer is the most common cancer in the United States, and dermatologists see the impact it has on patients' lives every day. Unprotected exposure to the sun's ultraviolet rays is a major risk factor for skin cancer. The AAD encourages the public to continue to protect themselves from the sun by seeking shade; wearing protective clothing, including a lightweight, long-sleeved shirt, pants, a wide-brimmed hat and sunglasses; and generously applying a broad-spectrum, water-resistant sunscreen with an SPF of 30 or higher to exposed skin.
The AAD's sun protection recommendations are based on the existing body of scientific evidence and current FDA regulations and guidelines; these recommendations will continue to evolve as the science develops and the FDA issues new regulations. If you are concerned about the safety of the ingredients in your sunscreen, talk to a board-certified dermatologist to develop a sun protection plan that works for you.