Apple Heart Study: Your APPLE watch will soon detect Atrial fibrillation and save you from heart attack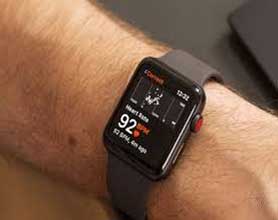 Your Apple watch will soon warn you if you start having symptoms of Atrial Fibrillation or irregular heart beats and protect you from heart attacks!!
A groundbreaking study conducted by Stanford School of Medicine researchers has prompted that a time will come when the wearable technologies will save many lives from a heart attack before it strikes.
Atrial fibrillation (AF) is the most common cardiovascular disorder which is putting the lives of 33.5 million individuals at risk. Numerous studies have reported AF as a growing epidemic. In such a scenario having a technology which can detect the risk of a heart attack beforehand is indeed a boon for many people dealing with AF.
However, preliminary results of the Apple Heart Study, an unprecedented virtual study with over 400,000 enrolled participants were presented at the American College of Cardiology's 68th Annual Scientific Session and Expo. The researchers reported that the wearable technology can safely identify heart rate irregularities that subsequent testing confirmed to be atrial fibrillation, a leading cause of stroke and hospitalization.
The study was conducted to determine whether a mobile app that uses data from a heart-rate pulse sensor on the Apple Watch can identify atrial fibrillation. The condition often remains undetected because many people don't experience symptoms.
Major findings from the study include:


Overall, only 0.5 percent of participants received irregular pulse notifications, an important finding given concerns about potential over-notification.


Comparisons between irregular pulse-detection on Apple Watch and simultaneous electrocardiography patch recordings showed the pulse detection algorithm (indicating a positive tachogram reading) has a 71 percent positive predictive value. Eighty-four percent of the time, participants who received irregular pulse notifications were found to be in atrial fibrillation at the time of the notification.


One-third (34 percent) of the participants who received irregular pulse notifications and followed up by using an ECG patch over a week later were found to have atrial fibrillation. Since atrial fibrillation is an intermittent condition, it's not surprising for it to go undetected in subsequent ECG patch monitoring.


Fifty-seven percent of those who received irregular pulse notifications sought medical attention.


"The results of the Apple Heart Study highlight the potential role that innovative digital technology can play in creating more predictive and preventive health care," said Lloyd Minor, MD, dean of the Stanford School of Medicine. "Atrial fibrillation is just the beginning, as this study opens the door to further research into wearable technologies and how they might be used to prevent disease before it strikes — a key goal of precision health."
For the study, each participant was required to have an Apple Watch (series 1, 2 or 3) and an iPhone. The Apple Heart Study app intermittently checked the heart-rate pulse sensor for measurements of an irregular pulse. If an irregular pulse was detected, the participant received a notification and was asked to schedule a telemedicine consultation with a doctor involved in the study through American Well. Participants were then sent ambulatory ECG patches through BioTelemetry, which recorded the electrical rhythm of their hearts for up to a week.
"The study's findings have the potential to help patients and clinicians understand how devices like the Apple Watch can play a role in detecting conditions such as atrial fibrillation, a deadly and often undiagnosed disease," said Turakhia. "The virtual design of this study also provides a strong foundation upon which future research can be conducted to explore the health implications of wearable technology."
"The performance and accuracy we observed in this study provide important information as we seek to understand the potential impact of wearable technology on the health system," said Perez. "Further research will help people make more informed health decisions."
"Through the Apple Heart Study, Stanford Medicine faculty will explore how technology like Apple Watch's heart rate sensor can help usher in a new era of proactive health care central to our Precision Health approach," said Lloyd Minor, Dean of Stanford University School of Medicine. "We're excited to work with Apple on this breakthrough heart study."
The technology may cut down the cost of treatment and can alert those who are suspected of with cardiovascular disease.