Apollo Surgeons perform first 3 level artificial cervical disc replacement surgery
In a rarely performed and complex surgery of the cervical spine, two leading neurosurgeons of Delhi reportedly for the first time in India performed a 3 level cervical disc prolapse surgery followed by replacement of the patients natural disc with an artificial disc to preserve the patients range of movement in the neck.
Dr Ashish Shrivastav and Dr Sunit Mediratta ,consultant Neurosurgeons at Apollo Hospital, Delhi performed this procedure last month on a 46 year old man from Iraq who ad come with complaints of neck pain and radiating pain along his upper limbs causing immense discomfort with inability to carry out his day to day activity.The procedure was successfully carried out over a 3 hour period and the patient was allowed to walk the next day.The patient was completely relieved of his pain and was discharged from the hospital 3 days after the surgery.
Cervical disc prolapse or slip disc as referred to in common parlance is a common ailment in young active adults and causes neck pain along with radiating pain to the upper limbs ,left untreated it can progress to causing weakness of the hands and legs ,stiffness of lower limbs and difficulty in walking.
Although commonly most patients present with a single level or 2 level disc prolapse the traditional way of treating has been to surgically remove the prolapsed disc and fuse the adjoining cervical vertebra(neck bones) using a bone graft, it takes almost 3 months for the bones to fuse during which time the patient is advised to wear a cervical collar at all times.
However the neck movements become restricted using this approach and it also causes additional strain on the adjacent disc spaces,thus for the last few years patients with multilevel cervical disc disease have been offered artificial disc replacement with the idea of preserving the range of motion and decreasing risks of further degeneration of adjacent discs over a period of time.The artificial disc gets immediately fixed snuggly between the bones and does not require a long healing period or the use of a cervical collar for long.
Since the approval of the US FDA for multi level cervical disc replacement in 2008 only a few surgeons have performed 3 level cervical disc replacement surgery worldwide.
The usual costs of such surgery would be upwards of US $ 45000 in the United States for a single level disc replacement,Dr Mediratta informed that they have been able to perform the same surgery at a fraction of the cost here even though the surgery involved replacement of 3 discs.(US $9000)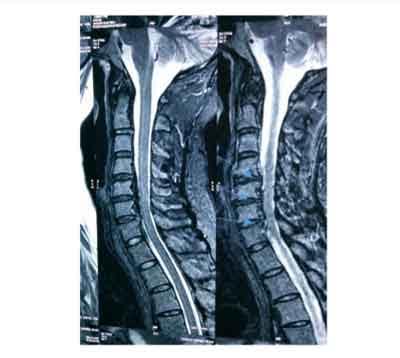 MRI scan of the patient showing 3 level cervical disc prolapse (arrows)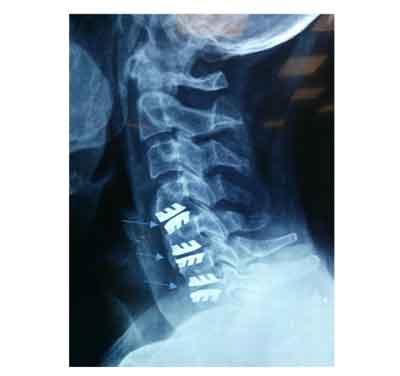 Post operative X-ray of the patients neck showing the 3 artificial discs (Arrows).
Source : Press Release