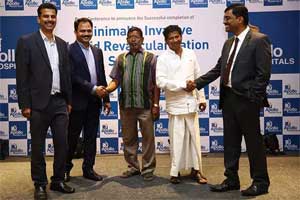 Apollo Hospitals on Tuesday announced that it became the first centre in India to perform Minimally Invasive Hybrid Revascularisation (MIHR) surgery to treat a triple vessel coronary artery block and improve blood flow to the heart.
The cutting-edge procedure gave a new lease of life to a 57-year-old man from Chennai city.
MIHR was a procedure that combines minimally invasive Coronary Artery Bypass Grafting (CABG) surgery and angiography stenting procedure to restore blood flow to the heart when there was a build-up of plaque in the blood vessels.
Dr M M Yusuf, Minimally Invasive Cardiac surgeon, Apollo Hospitals, told the media here that the patient Zahir Hussain,a businessman, was brought to the hospital with a heart attack that blocked triple vessel Coronary artery.
Patients with triple vessel blockage were mostly treated with a conventional bypass surgery (by splitting the central chest bone), which was an intense procedure that needs a longer recovery time post-surgery.
But Dr Yusuf and his team decided to use a minimally invasive technique rather than the traditional approach. The MIHR procedure allows the surgeon to work on a beating heart through a small chest incision (small thoracotomy) between the ribs with the help of High definition camera and monitor (Thoracoscope), without having to split the breastbone.
This procedure helped quick recovery and major morbidity.