Apollo hospitals becomes first centre to perform Robotic-assisted CABG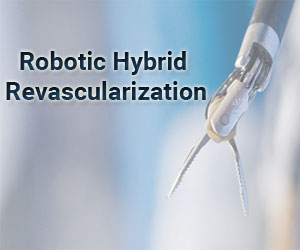 Chennai, Indian hospital chain Apollo Hospitals, became the first centre in India to perform Robotic-assisted CABG. It is a minimally invasive- robotic hybrid revascularisation surgery to treat blocks in two major blood vessels to improve blood flow to the heart.
Coronary artery bypass graft surgery (CABG) is a surgical procedure that improves blood flow to the heart for patients with blocked coronary arteries. Robotic CABG is a relatively new minimally invasive surgical technique. It is a less invasive alternative to conventional open heart surgery where the breastbone, or sternum, is sawn in half. It uses surgical instruments and a camera attached to the arms of a robotic machine, which are controlled by the heart surgeon via a computer console. This minimally invasive technique enables very precise control of the surgical instruments over a wide range of motion through small cuts on the side of the chest.
The cutting-edge procedure gave a new lease of life to a 63-year-old female patient from Chennai. Apollo Hospital, Cardiothoracic surgeon, Dr M M Yusuf told newsmen here on Friday that Robotic Minimally Invasive Hybrid Revascularisation is a procedure that combines minimally invasive coronary artery bypass grafting surgery (CABG) and angiography stenting procedure with Robotic assistance to achieve precision while treating patients with multivessel coronary artery disease.
J. Malliga, a 63-year-old lady from Ambattur (Chennai) was brought to Apollo Hospitals here on February 18th,2018 with worsening chest pain that was persistent over 6 months. It was identified that she had blocks in two of the major blood vessels that supply blood to the heart. Patients with such severe blockage are mostly treated with a conventional Bypass surgery (by splitting the central chest bone) which is an intense procedure that needs a longer recovery time post-surgery which is over three to four months.
Dr Yusuf said a team under him decided to use a minimally invasive technique rather than the traditional approach on the patient. This minimally invasive-Hybrid Revascularisation procedure with Robotic assistance allows the surgeon to work on a beating heart through a small chest incision (small thoracotomy) without having to split the chest bone. He said he and his team performed this procedure with a unique two-stage approach using Robotic assistance.
Two of the three major blood vessel of the patient was severely blocked reducing the heart function completely. She also had blocks in other vessels, which could
be treated either with surgery or angiography stent insertion. As the patient was a not convinced with a conventional bypass, Dr Yusuf performed the Minimally Invasive CABG using a robot under the guidance of Dr Frank Vanpraet, Director of Robotic and Minimally Invasive cardiac surgery, OLV Hospital, Aalst, Belgium. This procedure helped quick recovery and major morbidity.
Describing the procedure Dr. M M. Yusuf said, "In the thoracotomy -beating heart approach, the surgeon can perform the operation through a tiny incision under the left nipple (four or five centimetres wide) while the heart continues to beat. This technique lowers the risk of complications that arises if a conventional bypass method is used. The patients have reduced pain and less need for postoperative pain medication, smaller scars, a shorter stay in the hospital and a faster recovery."
He added, "As a stage two approach the patient underwent Angiography and Drug Eluting Stent insertion to the remaining blockages in the coronary artery under specialised Intravascular Ultrasound Guidance. This was performed by Dr.Damodharan, Senior Consultant Cardiologist, Apollo Hospitals. The patient had excellent results in the check angiography after stent insertion and surgery. This patient was very cooperative and recovered in 48 hours and was discharged."
Robotic-assisted CABG is the least invasive method of minimally invasive cardiac surgery. Blood loss, pain are negligible and it reduces hospital stay with extremely quick recovery. This procedure would be suitable to treat many patients with multi-vessel vessel coronary artery disease. Patients can return back to full normal activity with 2 weeks, Dr Yusuf said.Dr. Mohammad Yusuf and team had earlier in March 2018 performed India's first Minimally Invasive Hybrid Revascularisation procedure (without Robotic assistance) on a 53-year-old man saving him from a triple vessel blocks.