Apollo Hospital performs TAVR on octogenarian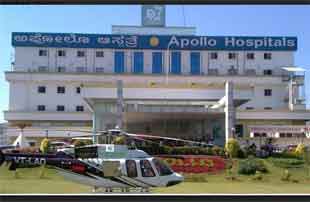 Hyderabad : Cardiologists at Apollo Hospitals, Hyderguda for the first time performed TAVR (Trans, Catheter Aortic valve Replacement) without surgery for Bicuspid Aortic Valve stenosis.
Talking to newsmen here today, Dr PLN Kaparthy, Director, Cathlab Apollo Hospitals, Dr V Surya Prakash Rao, Head of the Department of Cardiology, Dr Venkata Reddy, Anaesthetist said that the severely narrowed calcified Aortic valve on a 80-year-old patient with multiple comorbid medical illnesses was treated with valve implantation by percutaneous technique without sutures and he would be discharged in two days.
While elaborating the case, the doctors said that the patient Prabhakar hailing from Gandhinagar here underwent Bypass surgery long back and also had chronic kidney, lung problems. He was diagnosed with Bicuspid Aortic valve with-severe calspic stenosis and heart failure. He was rejected for open heart surgery and valve replacement due to age and comorbid conditions. He came to the hospital with Severe breathlessness, fatigue and not able to do routine activities.
The Aortic valve was located between the main pumping chamber of heart left ventricle and Aorta, the main vascular pipe supplying oxygenated blood to the entire body. The narrowing of this valve happens over years of degeneration with ageing and also by birth anomaly added to ageing process (Bicuspid aortic valve). This Aortic valve stenosis leads to heart failure ultimately, the doctors said.
They said in US and Europe thousands of TAVR were done without surgery. But in India approximately 20-30 cases of TAVR done but in most of the cases, the valve belongs to Tricuspid variety.
The Bicuspid anomaly with stenosis (Narrowing) at 80 years age with heart failure was relatively rare surgery, Dr Surya Prakash Rao said.
The patient, who also present before the media said that he was facing this problem for the last two and half years. " During the last six months, I am not able to speak, eat and perform other routine activities. Fortunately Iget solution for the problem", he said and expressed his gratitude towards hospital and doctors who attended on him. UNI VV CS 1719